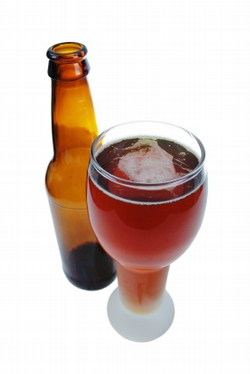 Approach One: Greg Engert
Greg Engert, beer director at Churchkey and Birch & Barley, takes his beer pairing very seriously. It's his job, after all. So we asked him to offer up suggestions for suds that would match winningly with the Thanksgiving feast.
"We're looking for flavorful brews with medium-bodied richness; moderate alcohol; residually sweet tastes of bread, toast, caramel, or even light roast; and spicy-herbal aromatics. Any beer with these properties will go swimmingly with all of the food on Thanksgiving," says Engert.
With that in mind, he divides T-Day eaters into two categories: those who like light meat, and those who prefer dark. For each, he offered up pairing selections from local craft breweries. If you prefer brews from places more far-flung, just use the beer styles (wit, hefe, etc.) to guide you.
Engert offered six suggestions for regional brews for the breast eaters. (Oh stop it, you know what we mean.)
They are:
Heavy Seas Yule Tide (tripel, MD)
Stillwater Artisanal Ales Stateside Saison (saison, blond/golden, MD)
Port City Brewing Optimal Wit (witbier, VA)
Starr Hill Brewery The Love (hefeweizen, VA)
The Brewer's Art Ozzy Ale (Belgian strong blond/golden ale, MD)
DC Brau—The Citizen (Belgian strong pale ale, DC)
For those who favor the darker bits of the bird, Engert suggests:
Stillwater Artisanal Ales Autumnal (saison, dark, MD)
Chocolate City Beer Cerveza Nacional de la Capital (dunkel lager, DC)
Blue Mountain Evil 8° (dubbel, VA)
The Brewer's Art Resurrection (Belgian strong dark ale, MD)
Approach Two: Norm Yow
Of course, there are those among us who aren't fans of beers from Belgium. Seriously, these people exist. One of them is Norm Yow, owner of Norm's Beer and Wine, the beloved beer emporium in Vienna. He offered up recs for before, during, and after the feast.
For preprandial sipping, Yow likes a mellow brown ale such as Samuel Smith's Nut Brown Ale or Brooklyn Brown from Brooklyn Brewery.
During dinner, he suggests pouring an amber ale, like the one from Bell's beer in Kalamazoo, Michigan. "It's an easy style, and flavorful—a nice contrast to the food that will go well with dark turkey meat and mashed potatoes and gravy. The flavors won't run over everything on the plate."
With dessert, he likes Founders Brewing Company's Breakfast Stout. It's a "perfect complement to dessert, with coffee characteristics—coffee always goes well with pies—and a chocolate element."