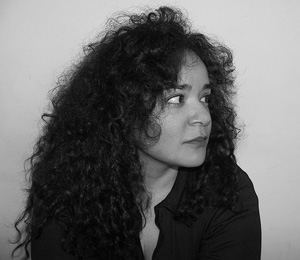 The Annapolis Symphony Orchestra is celebrating its 50th anniversary this year, and its future looks bright. It has released a debut CD on a new self-published label, and received a generous donation from Elizabeth Richebourg Rea (in honor of her father, Philip Richebourg), which has underwritten the anniversary festivities and then some. ASO music director José-Luis Novo has bravely made room in his programming for contemporary music, and this weekend's concerts (November 18 and 19 in Annapolis's Maryland Hall) will feature the local premiere of a recent piece by American composer Gabriela Lena Frank, who will be composer in residence in Annapolis for the next two seasons.
La Llorona, written in 2007 for the Houston Symphony and their principal violist, Wayne Brooks, is an evocative tone poem for viola and orchestra. Lasting about 20 minutes, it tells the story of a llorona, or "crying woman" spirit, a legend known in many Latin American countries that depicts the weeping ghost of a murdered woman, often by a river's edge. The composer has summarized the story as a "portrait of the internal shift that happens as the llorona accepts her new existence." In seven sections, played as one continuous movement, the music follows the spirit as she awakens from slumber, tries to escape, witnesses the dance of chullpas (Peruvian skeletal spirits), hears the comforting song of the moon, and ultimately accepts her fate and sinks into the shadows.
As a composer, Gabriela Lena Frank has been described as a "musical anthropologist," researching folklore, mythology, and native music on extensive trips throughout South America. It was perhaps inevitable that Frank's music would take this approach, given her multicultural background—her mother is of Peruvian/Chinese ancestry and her father is of Lithuanian/Jewish descent. Her hero and model in this pursuit, she told The Washingtonian last week, was Hungarian composer Béla Bartók, who collected folk music in Central Europe and incorporated it in daring ways into his own compositions.
In her own music, she says folk influences can be expressed in multiple ways, from actual sounds, "such as asking string players to play with a lighter 'airy' bow to sound more like the breathiness of bamboo quena flutes" to a "special form common to a traditional song or dance; or even the loose inspiration of a folktale." Bartók followed similar processes when incorporating folk music into his compositions, Frank concludes, "and the result is one that has longstanding implications for composers who would follow in his steps."
As for what she wants audiences to know about La Llorona, Frank says, "I really thought of this as a ballet without dancers. The music itself betrays little actual folkloric influence, conceived in a very personal language of intuitive harmonies and melodies, but it would never have come into existence without my knowing about this classic myth." The reference to the myth does indeed make the piece "Latin American in its DNA," she adds. "In my telling of it, the solo violist is always the llorona, the crying woman, who goes through the different phases of loss and acceptance, each of which could be brought to life in a ballet."
The soloist in Annapolis will be Roberto Díaz, former principal violist of the Philadelphia Orchestra and current president of Curtis Institute of Music. Jennifer Stumm, a violist who will also be playing La Llorona this weekend with the Atlanta Symphony Youth Orchestra, shared her impressions of the work with The Washingtonian this past weekend. "Gabriela made an inspired choice in setting the llorona legend for the viola," she said. "The plaintive nature of the instrument, the extra tension in the sound that comes from strings that are too short for their pitch—these qualities make it easy to imagine the voice of the wailing woman. The viola has a unique ability to sigh, breathe, and quaver like the human voice—to be vulnerable."
Stumm was in Mexico last month, performing at the Cervantino Festival in Guanajuato, and she asked people at the festival with some knowledge of Latin American folklore about the llorona legend. "It was a lot of fun and yielded an array of colorful anecdotes," Stumm said. "Victim, vixen, spirit, witch, angel—the llorona's character and story seem to vary by region and family tradition. What everyone agreed on, though, is that she is found in shadowy streets, in the gloaming. That when one hears an unidentified cry, a lonely sound, you can almost see her skirts slipping through the mist."
What does Gabriela Lena Frank hope audiences will get from her time in Annapolis? According to her, her main goal is "to put a consistent human, living face to this mysterious and ephemeral experience of music." She continues: "The notion of a composer is especially unusual to most, confined to that bronze bust you might see on someone's piano or on a dusty shelf in the library. If I can not only demystify the creative process but also embark on actual practical projects—working with young students to create music at a local school, for instance—then I'm helping people own and enjoy the arts that much more."
The Annapolis Symphony Orchestra performs Gabriela Lena Frank's La Llorona this weekend, November 18 and 19, at Maryland Hall. Tickets ($25 to $45) are available through the orchestra's Web site. In addition to the Frank piece, with violist Roberto Díaz as soloist, the ASO will play Beethoven's Leonore Overture No. 2 and Mussorgsky's Pictures at an Exhibition , in the well-known orchestration by Maurice Ravel.