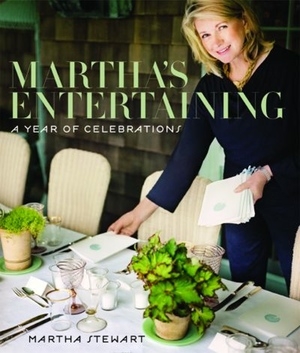 Martha Stewart is at it again. She's imposing her will on our tables and menus with her notable brand of casual high style and imagination. And the woman herself will be in Washington this Thursday with an appearance and a book signing at DAR Constitution Hall, hosted by the Smithsonian. DC is one stop on a nationwide tour to promote her latest book, called simply Martha's Entertaining: A Year of Celebration. It's the three-decades-later sequel to her first book, the landmark Entertaining, which launched her stunning career in 1982. Before that, we didn't know much about pastel eggs or the 1,001 things that can be done with a glue gun.
Yes, there was a time Before Martha, when most people called cooking and flower-arranging "home economics" and no one—except Martha—had any idea these domestic pursuits could be transformed into a publishing and television empire worth hundreds of millions. She did just that, and is still doing it, not the least slowed down by a five-month prison term for stock market shenanigans in 2004.
The 432-page book is beautiful—coffee-table size, with lush photography and bits of text where Martha expounds her philosophy, passions, and clever tips. It is divided into categories: Mornings, Afternoons, and Evenings, followed by a section on recipes and one on techniques. We gave it a close look and came away with these high points (including some useful Thanksgiving tips):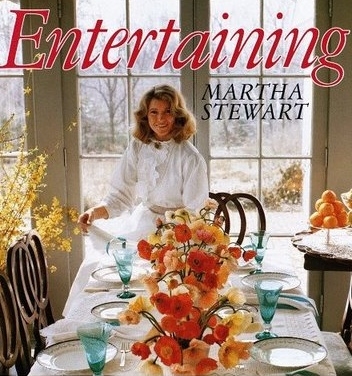 1) She did the book because "times have changed," and there's more global cuisine and a greater interest in lush flowers. She's been working on the tome, in one form or another, since the first Entertaining, keeping files, and saving photos and recipes.
2) Mornings are her favorite time to entertain, because after she cleans up—"I like cleaning up" (really?)—she has the whole day ahead of her to focus on projects.
3) "Entertaining is not really about shortcuts."
4) "I do not believe every Thanksgiving should be like the last."
5) She believes there are "infinite choices for a single thing," such as the Thanksgiving turkey, especially with "heritage" breeds, which are to turkeys what "heirloom" is to tomatoes.
6) The different ways Martha likes to change up the turkey prep for Thanksgiving: oven roasting, smoking, deep frying, grilling, poaching, steaming, and "turduckening," which, for the unenlightened, is a turkey stuffed with a boneless duck.
7) Why Martha is and always will be different from the rest of us? She describes a favorite autumn breakfast: "Blueberries, frozen in August in the big chest freezer in the basement," with which she made "pancakes, waffles, muffins, smoothies, all with local fruit." The remainder of the menu was "yogurts from Smith Family Farm, croissants from Petrossian, coffee from Italy, [and] maple syrup from Maine." Sigh. Without Martha, there would be no culinary aspiration.
Martha Stewart's appearance is part of the Smithsonian Associates program. It begins at 7 PM at DAR Constitution Hall. Tickets ($35) are available through Ticketmaster.