George Clooney and Shailene Woodley star in The Descendants, out Friday. Photograph courtesy of Fox Searchlight
Director Alexander Payne returns after a seven-year absence (yes, it's been that long since Sideways) with another typical Payne piece: understated, insightful, and with just enough laughs to distract from the intense personal pain he puts onscreen. Based on the novel by Kaui Hart Hemmings, the film stars George Clooney as a lifelong Hawaii resident, juggling a land deal that promises him and his extended family millions if they sell off a huge tract of undeveloped land passed down to them from a native Hawaiian ancestor, while dealing with a comatose wife and trying to raise two daughters. When one of his daughters reveals a secret about his wife, whom he is unable to confront about it, he's forced to seek closure through other means. Despite a slightly shaky start with an overreliance on expository narration, once the film finds its pace, it's one of the most deeply moving (but never lacking in genuine humor) of Payne's career, filled with the sort of natural characters that always populate his films. Even Clooney seems less like a movie star and more like a heartbroken father barely holding it together.
View the trailer. Opens Friday at E Street, Bethesda Row, and Georgetown.

Muppets, Music & Magic: Jim Henson's Legacy
With a brand new Muppet movie out next week, it's the perfect time to kick off a retrospective of Jim Henson's work. The AFI has put together a selection of eight Henson features, as well as half a dozen special collections of shorts, rarities, and behind-the-scenes collections. Among the pieces are the first (and best) three Muppet movies—the original Muppet Movie, The Great Muppet Caper, and The Muppets Take Manhattan—along with the AFI's now-traditional holiday offering, Emmet Otter's Jug-Band Christmas. Big Bird's feature debut in Follow That Bird is on the schedule, as well as both of Henson's darker fantasy pieces; Labyrinth will play on and after Thanksgiving, and the whole series opens next week with The Dark Crystal.
View the trailer for The Dark Crystal. Starts Wednesday at the AFI and continues through December 22. Check the AFI's Web site for complete listings.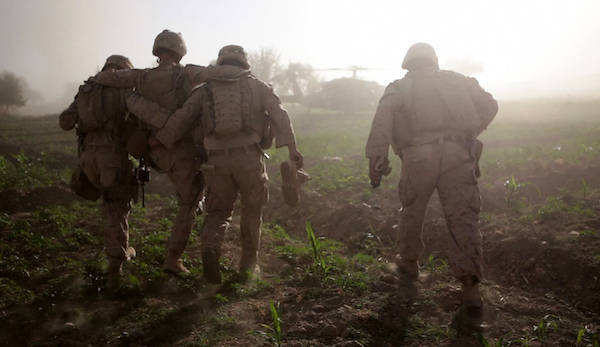 Sundance Film Festival winner Hell and Back Again opens at E Street Cinema Friday. Photograph courtesy of Docuramafilms
Danfung Dennis's documentary about one man's harrowing experience in Afghanistan and difficult readjustment to civilian life after sustaining a significant injury was a highlight of this summer's Silverdocs festival. (Read our full review here.) If you missed it then, you're in luck: It's back now with a full theatrical release at E Street. The soldier at the center of the film, Nathan Harris, was shot in battle, an injury that broke his hip and leg and left him with severe long-term pain and difficulty moving around. Dennis leaves behind politics for an intensely personal look at one particular casualty of war, which has greater impact than any more rational or statistical analysis ever could.
View the trailer. Opens Friday at E Street Cinema.
French director Georges Franju's early documentaries often took a dark slant, and when he made the transition to fiction filmmaking, he layered an expressionistic flair for the fantastical on top of that. The director adapted a series of silent films about a cloaked crusader called Judex—a sort of pulpy film-noir superhero with an underground lair and a penchant for gadgetry. Think Batman in a fedora. In 1963, Franju resurrected the character with his typically surrealist bent, casting a cabaret magician in the title role of a story about Judex attempting to force a crooked banker to reimburse all the people he's cheated out of their cash.
View a clip from the movie. Sunday at 4 PM at the National Gallery of Art. Free.
It might be overstating things to call Bobcat Goldthwait's 1991 writing/directing debut, Shakes the Clown, a cult classic. It bombed on its release, not even earning back 10 percent of a very modest budget, and garnering mostly derision from critics at the time. I'm not sure it's picked up much of a cult following over the years, but it hasn't completely disappeared from memory. Goldthwait even claims that none other than Martin Scorsese has defended the film, and if you've only got a cult of one, that's a pretty good one to have. The film itself is exactly the sort of comedy that has trouble finding an audience, one so dark that the laughs don't balance out the cynicism quite as much as comedy audiences want. In the film, Goldthwait stars as the titular Shakes, a depressive, boozing party clown who finds himself suspected of a murder he didn't commit. While trying to clear himself, he travels among the various subcultures of clowndom, standing in for the bitter, backstabbing cliques of the standup comedy world.
View the trailer. Presented by the Washington Psychotronic Film Society, Monday at 8 PM at McFadden's. WPFS screenings are free, but a $2 donation is suggested.
DVD Pick of the Week: West Side Story
I'll be up-front that I'm not big on musicals. But West Side Story is an entirely different matter. This perfect storm of material and talent brought together one of the giants of American classical music, Leonard Bernstein, with breakout Broadways talent Stephen Sondheim and choreographer Jerome Robbins, who then teamed up with director Robert Wise to turn their already giant stage hit into a movie. The result was a film as beloved as the work that inspired it, picking up a staggering ten Academy Awards, more than any other musical before or since. Those wins included Best Picture; Best Director for both Wise and Robbins, who shared directorial credit; best score, of course (though not for Bernstein, who didn't arrange his compositions for the screen version); and supporting acting nods for George Chakiris as Bernardo and Rita Moreno as Anita. The film, which follows the basic outline of Romeo and Juliet, reset in midcentury Manhattan, is as perfectly realized 50 years after its release as it was then.
Special Features: For this new anniversary box set edition, the features are too numerous to mention. Check out the summary here.
View the trailer: