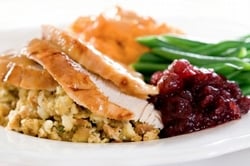 When we asked chef-owner Jamie Leeds of Hank's Oyster Bar about her Thanksgiving traditions, we thought she'd recall a complicated oyster stuffing that starts with shucking dozens of bivalves. Thankfully, no: The two most reliable dishes on the Leeds family table are mother Mitzi's mushroom stuffing and canned Ocean Spray cranberry sauce. The latter requires no recipe, so we asked for her mom's formula for an earthy stuffing packed with fresh wild mushrooms (sourced from the farmers' market if possible, or from a pro forager if you're lucky enough to know one). Leeds says the best part is picking the flavorful blend out of the turkey cavity. For tips on safely cooking stuffing in the turkey, see our chat with chef Robert Wiedmaier; otherwise, follow the baking instructions below.
Mitzi's Mushroom Stuffing
Serves 8 to 10
2 pounds unsalted butter
4 medium Spanish onions, diced small
1 tablespoon chopped garlic
8 cups mushrooms (2 cups each of portobello, shiitake, cremini, and button), quartered to the same size
3 to 4 16-ounce bags of breadcrumbs, Stouffer's if available
2 tablespoons salt
1 tablespoon black pepper
1 cup diced pickled red peppers
1 cup chopped Italian parsley
½ cup chopped thyme
2 to 3 cups boiling water or stock
Preheat the oven to 350 degrees.
Melt butter in a large pan over medium heat and sauté all the mushrooms until tender, about 10 to 15 minutes.
Add 3 to 4 bags breadcrumbs, depending on how bready you like stuffing. Season with salt and black pepper.
Add pickled red peppers, chopped parsley, thyme, and the boiling water or stock until moist.
Butter a baking dish and spread stuffing inside. Bake for 30 minutes, until heated through and lightly crispy on top. Alternatively, rinse the turkey cavity and wipe dry before stuffing.