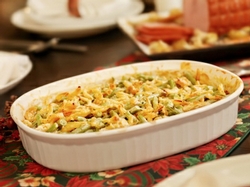 Chef Shannon Overmiller of the Majestic has two green bean casseroles on her Thanksgiving table every year: a home-style classic with Campbell's cream of mushroom soup and French's onions, and this (just slightly) dressed-up spin, which features green beans folded into a fresh mushroom cream sauce and crowned with a fried shallot topping.
Her brothers insist on the former, but we couldn't help begging for the latter.
Green Bean Casserole

Serves 6 to 8
Casserole
2 pounds green beans, trimmed
½ pound butter
1 cup yellow onions, large diced
4 cups button mushrooms, sliced1 cup flour
½ cup dry sherry
1 quart heavy cream
pinch sugar
dash Worcestershire sauce
dash hot sauce
1 teaspoon nutmeg
1 cup Parmesan cheese
½ cup chopped thyme
2 bay leaves
1 cup bread crumbs
salt and pepper to taste
Shallot Topping
4 cups flour
1 tablespoon paprika
1 tablespoon onion powder
1 tablespoon garlic powder
salt and pepper to taste
2 cups shaved shallots or white onions
Make the casserole: Boil a large pot of salted water and blanch beans until they are al dente, about 2 to 3 minutes (the beans shouldn't be too crunchy or too soft). Shock immediately in ice water, drain, and set aside.
Melt butter in a large sauté pan over high heat. Add mushrooms and sauté until colored, about 3 to 4 minutes. Bring the temperature down to medium, add the onions and salt and pepper, and sauté, stirring, until tender, about 15 minutes.
Once the mushroom-onion mixture is cooked, sprinkle the flour over it, stirring for about a minute. Add the sherry and let it reduce, stirring, for two minutes. Add the cream slowly, stirring constantly until the sauce thickens. Add the pinch of sugar, the Worcestershire and hot sauces, the nutmeg, a few tablespoons of Parmesan cheese, and the bay leaves.
Stir roux mixture with a whisk until smooth and slightly thickened, about 5 minutes. There should be no raw flour taste. Fold in green beans and thyme.
Place the mixture in a casserole dish and sprinkle Parmesan and bread crumbs on top. Cover with foil and bake for 30 minutes. Remove the foil and bake an additional 15 minutes, until top is browned slightly.
Make the shallot topping: Fill a heavy pot with vegetable oil and heat until an instant-read thermometer reaches 350 degrees.
Combine all the ingredients except the onions in a bowl. Dredge the onions or shallots in the seasoned flour. Shake off excess flour. Fry in batches until golden and crisp, draining the cooked shallots on paper towels and seasoning with salt. Sprinkle atop the baked casserole when it's done.