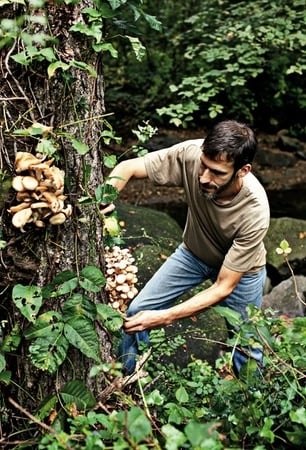 Walk around a park with Matt Cohen and he'll start snacking. Every few feet, the 41-year-old wild-food enthusiast from Silver Spring will pick up and nibble on something that looks like a weed but turns out to be a delicious surprise. One bite might be wood sorrel, a micro-green with a citrus tang; the next might be a slightly bitter dandelion shoot. Cohen's not just looking for dinner—he earns part of his income by leading tours that reveal the natural bounty in plain sight. You might say the world is his grocery store. Here's a conversation with him.
What was your first taste of wild food?
When I was a little kid, I'd pick wild onion grass from my lawn and make my mom throw it in the salad.
How did you become a forager?
I was working on a small organic farm in Georgia with a mushroom guy who'd been hunting them for 20 years. We found all these varieties in the woods. He'd tell me, "This one will kill you; this one's good." That whetted my appetite.
Where are the best places to hunt around here?
I went to fly a kite at Nolte Park in Silver Spring and found some great meadow mushrooms. You can find autumn-olive bushes—which have tart red berries—at Lake Artemesia in Berwyn Heights. In DC's Mount Pleasant along the sidewalks, there's lots of stuff: garlic mustard, purslane, wineberries, and epazote, which is used as a seasoning in Mexican food. If you're in a public park, be sure to check what the regulations are for collecting plants.
Are you always looking?
A lot of people go around and look at houses—I check out what's growing.
Is it dangerous?
Not any more dangerous than eating from our current food system. Go slow, learn your plants, and you'll eventually get to be as comfortable eating wild foods as you are eating an apple. There's risk, but there are very few plant or mushroom poisonings every year.
Any tips on how to avoid deadly fungi?
The Amanita genus kills the most people—it includes "destroying angels" and "death caps." Of course, there are other varieties that don't look anything like amanitas that can still harm you, so be very careful.
Ever picked psychedelic mushrooms?
A lot of people get into mushroom foraging through that route, but that was never my thing.
This article appears in the November 2011 issue of The Washingtonian.