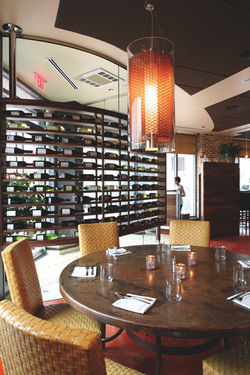 America Eats Series: Sustainable Agriculture at the National Archives' William G. McGowan Theater
Monday, November 21st at 7
If you're interested in sustainable farming, this event, which is free and open to the public, is worth a stop. A panel of speakers discusses economic, social, and environmental issues surrounding sustainable farm systems, including Kathleen Merrigan, deputy secretary of the US Department of Agriculture; chef-restaurateur José Andrés; and Bob Young, chief economist at the American Farm Bureau Federation. Make it an all-Andrés by grabbing a bite at the Iberian toque's America Eats Tavern nearby, or at one of the many other dining and drinking options in Penn Quarter.
Two for Tuesday at Bayou Bakery
Tuesday, November 22nd from 11 AM to close
Chef David Guas's Louisiana cafe celebrates its first birthday with a few $2 specials, including $2 Abita drafts, plates of beignets (three per order), and cups of creamy shrimp monica. Still pulling together your Thanksgiving menu? Make it a literal two-for-one stop and pick up a bourbon chocolate pecan pie, cranberry-orange preserves, spiced pecans, or any of the other items on the restaurant's holiday catering menu (orders must be placed by close of business on Monday, November 21).
Eleventh Hour Wine Tasting and Red Apron/Buzz Bakery Pop-Up at Planet Wine
Wednesday, November 23, 3 to 7 PM
If you're behind on Turkey Day dinner and still need meat, booze, and/or pie, drop into Planet Wine for a last-minute pickup. The staff has chosen a variety of vinos for customers to sample, including bottles that pair well with traditional Thanksgiving dishes and value deals. Red Apron is setting up shop at the same time with prosciutto, bresaola, sage sausages, and other meaty goodness. (Preorder items here.) For the sweet finish, Buzz Bakery will have its Thanksgiving pies—including the pumpkin, which made our list of top five—ready to pick up at the shop (these must be ordered ahead by calling 703-600-2899).
Thanksgiving!
Thursday, November 24
Hey, happy Thanksgiving everybody. Find answers to all your late-breaking Turkey Day queries in our Thanksgiving Guide. Need to put together a last-minute centerpiece? We have step-by-step instructions. Looking for a few tips on cooking delicious Brussels sprouts? Check out our chat with chef Robert Wiedmaier. And if you end up burning the bird, we have a roundup of restaurants offering traditional and unusual feasts.
"Movember" Fundraiser at Proof
Sunday, November 27, 9 PM to midnight
Remember, this is the month of Movember, in which local men become increasingly hirsute as the weeks pass, growing out their beards and mustaches for charity. Restaurateur Mark Kuller (Proof, Estadio) and many of his male employees are participating in the monthlong fundraiser to raise awareness for prostate cancer and men's health issues, and will show off their furry faces at a private cocktail party at Proof. Even if you're smooth-cheeked you can enjoy passed hors d'oeuvres from chef Haidar Karoum, craft beers and wines, a specialty cocktail from bar manager Adam Bernbach, and a cash bar. Tickets ($50 per person) can be purchased by calling Kim Burke at 202-737-7663, or you can download the form on the Web site and fax it in.