He's from Boston. Your parents live in LA. You met as Congressional interns, bonded over beers at a Cap Hill bar, and have been inseparable ever since. Now the holidays are here (gosh, time flies when you're in love), and it's time for Mom and Dad to meet the wonderful girl he keeps talking about. We know, we know—you want to dress to impress without looking stuffy, while still seeming sweet and fun. An impossible task, right? Think again! Here are five fail-safe items (plus outfits to complete the look) that are guaranteed to score points.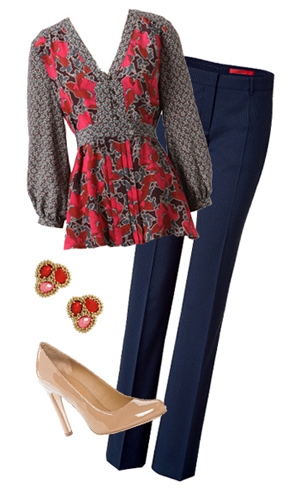 A (Reasonably) Demure Blouse
Remember: If ever there was a time to not show skin, this is it. When it comes to parent-friendly blouses, we generally follow the either/or rule: You can show some arm or some neck, but not both. Don't go high-collar and full-sleeve, though—that will make you look stuffy. Here, we paired a semistructured bohemian blouse (note the slight V-neck) with crisp navy pants and sensible shoes. The rich reds and pinks suggest you're friendly and open, while the dark blue gives off a sense of maturity.
Where to wear it: To a semicasual get-together or restaurant.
Eme & Esyllte Hirtella blouse, $118 at Anthropologie; Hugo blue pin stripe pants, $230 at Stylebop. Riley earrings, $60 at Kendra Scott; Nude patent pump, $195 at Michael Kors.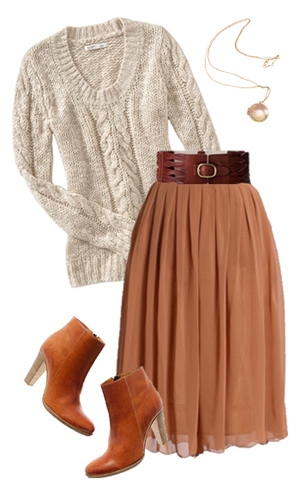 How convenient: One of fall's biggest trends is also a total parent pleaser! The below-the-knee hem keeps things nice and demure—just be sure to pair it with some stacked heels so your legs don't get lost in the mix. Top things off with a soft sweater and a simple locket, and you'll be ready to cozy up with all his little cousins on the couch.
Where to wear it: To an extended-family get-together at the grandparents' house.
Four Seasons pleated skirt in camel, $38.99 at Shop Ruche; Chunky cable-knit sweater, $36.94 at Old Navy; Almanac bootie, $248 at Madewell; Vintage sliced waist stretch belt, $81 at Linea Pelle; Circle locket, $190 at Kiel Mead.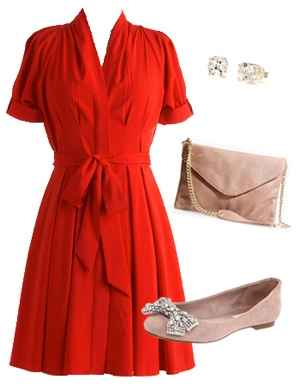 The shirtdress silhouette is a sure-fire meet-the-parents option—the classic, clean shape shows you're taking things seriously, and the full skirt will give you a little breathing room after that third helping of his mom's famous stuffing. If you're headed to a slightly fancier Thanksgiving celebration, wear it with festive flats and diamond studs for a look that says "sweet and responsible."
Where to wear it: Not sure how fancy that catered dinner is going to be? This outfit is medium-dressy, so you can swing it casual or formal.
Seen in Quebec dress, $74.99 at Modcloth; Steve Madden Karisma ballet flat, $99.95 at Endless. Leather Invitation clutch, $138 at J. Crew; White sapphire stud earrings, $59 at MIJA Jewelry.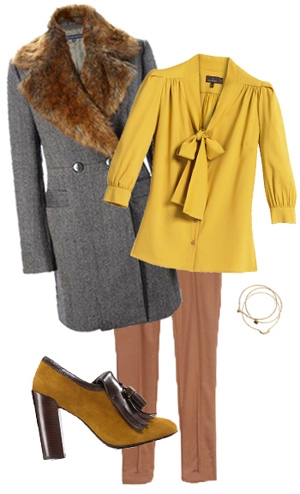 First impressions aren't everything, but they are important—and you'll want to look good right off the bat. Leave the sporty fleece at home, and instead opt for something a bit dressier. We selected a sleek double-breasted option (with a faux-fur collar for a little on-trend flair), but whichever coat you wear to the office will also work. Want to stick with the professional vibe? Sport a bow-tie blouse and oxford heels underneath.
Where to wear it: To an evening with a more conservative family.
Anderson Fur Collar Coat, $360 at French Connection. Tippi bow blouse, $400 at Mulberry. Ankle length chocolate pants, $41.99 at Romwe; Tory Burch Ariela oxford pumps, $395 at Bloomingdales; Iosselliani sapphire bangle set, $1415 at Honey in the Rough.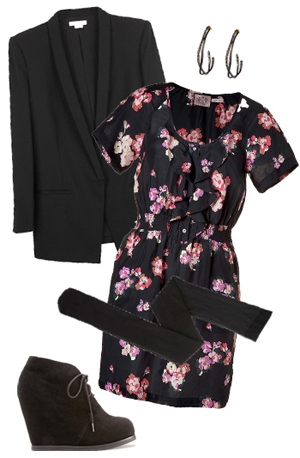 Looking for a pattern that won't overwhelm? Big, wintry blooms are a good way to go: They keep things feminine without veering too far into little girl territory. Keep the color palette monochromatic, and opt for a structured coverup—you'll appear sleeker, slimmer, and just a dash cool.
Where to wear it: To any sort of nontraditional meal—like at a Chinese restaurant.
Bird by Juicy Couture black scattered blooms dress, $240 at Stylebop; Helmut Lang single button blazer, $595 at La Garconne; Opaque tights, $20 at Armani Exchange; DV by Dolce Vita Pura bootie, $99 at Amazon; Gunmetal orbiting hoop earring, $225 at Alexis Bittar.