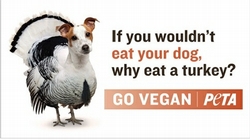 Now that's what we call a value meal:
In the New York Times business section, Paul Sullivan nerded out on turkey pricing. Turns out eating organic will cost you more—no surprise there—but a green feast with all the fixings still comes in at just $10.63 a person. That's, like, cheaper than lunch at Potbelly.
Frankly, Doug Allison, it's disturbing you'd even ask:
On NYT's Web site, meanwhile, a reader asked Diner's Journal if it's okay to cook a turkey frozen in the 1980s.
Here we thought it was the wine . . .
CBS News reported that giving thanks on Thanksgiving may make you happier.
Pre-PETA turkey pardonings:
The Washington Post recalled theatrical moments in presidential turkey pardoning . . . including one in which the feet of the chosen fowl were (yikes alert) nailed to a table. Yes, that happened during the Nixon administration.

And speaking of PETA . . .
They need to make up their minds. Is eating turkey like eating the family dog, or is it like eating a human baby? The animal-rights org's T-Day promos—summarized by this LA Times blog—are starting to confuse us.
Happy Thanksgiving, everyone. Here's hoping your turkey is cheap, fresh, and free of nails.