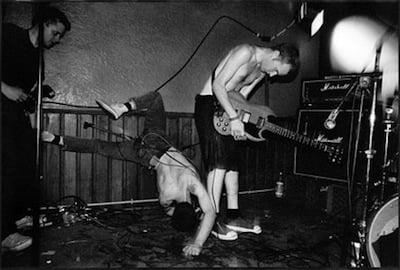 You might never again get to see Fugazi play "Waiting Room" in a DC basement, but thanks to a new archival project by Ian MacKaye and company, you can now relive more than 800 of the band's live shows. According to this New York Times story, the Fugazi Live Series will launch Thursday with 130 recordings of Fugazi concerts from their early days in the late '80s through their 2002 breakup, or "indefinite hiatus." More batches will be released early next year and will be available on the Web site of Dischord Records, the record label that Fugazi and Minor Threat frontman MacKaye founded with Jeff Nelson.
Known for their blazing-fast guitar riffs and do-it-yourself ethos, the punk outfit rarely (if ever) played any shows that weren't open to people of all ages for low cost. And that hasn't changed—individual recordings will be available for download on a sliding scale from $1 to $100, with a suggested price of $5 each.
For fans who missed the band's heyday, this might be the closest they ever get to hearing one of DC's most important bands. Since the breakup, MacKaye, the band's lead singer and guitarist, has focused on making more subdued music with the Evens, while Guy Picciotto, Joe Lally, and Brendan Canty have also moved on to other projects.
In March, MacKaye told punk blog Approaching Oblivion that it's "entirely possible" Fugazi will play again, but that doesn't mean you should hold your breath. Lally is currently settled in Rome, which makes for a tricky commute.
"We've been offered an insane amount of money to play reunions, but it's not going to be money that brings us back together," MacKaye said. "We would only play music together if we wanted to play music together and the time allowed it."
According to the New York Times, sorting through hundreds of unlabeled tapes to organize the archives was a Herculean task. MacKaye took crowd cues or wracked his brain to help identify which show was which. "I got sleuthy about it," he told the Times. "I'd listen to the accent of someone in the crowd and go, 'Okay, that was in Italy.'" And for preservation's sake, no cough, applause, or awkward moment was edited out. "It's not cleaned up. You get what you get," said Picciotto.