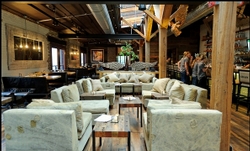 Complimentary Italian Craft Beer Tasting at Acqua Al 2
Monday, November 28, through Thursday, December 1
Whet your palate with some overseas suds during a few days of complimentary tastings at Acqua Al 2's bar. The free sips celebrate the launch of the restaurant's Italian microbrew program, with more than 13 labels like Tipopils pilsner, Shangrila ale, and smoky Torbatta on draft and in bottles. There's also a five-course dinner with craft beer pairings next Monday at 7 PM ($60 per person); ensure your spot by calling 202-525-4375 this week.
American Meat Screening and Panel Discussion at E Street Cinema
Thursday, December 1, at 7 PM
Tonight's free documentary screening (courtesy of Chipotle) is, in the words of the filmmakers, "a solutions-oriented macroscopic documentary surveying the current state of the US meat industry" from the perspective of business owners such as Chipotle's Steve Ells and Joel Salatin, the Polyface Farm owner whom you'll remember from The Omnivore's Dilemma and Food, Inc. Directly after the screening, hear from some of the folks involved during a talk with producer Graham Meriwether; Maureen Moodie, the farm director of the Arcadia Center for Sustainable Food & Agriculture; Chipotle's Mid-Atlantic regional director, Phil Petrilli; and others. Tickets are given out on a first come, first served basis.
Book Launch Luncheon for Monica Bhide's In Conversation with Exceptional Women at Fiola
Friday, December 2, at noon
Indian cookbook author Monica Bhide celebrates the launch of her first e-book on Thursday, December 1 with a luncheon at Fiola. Exceptional women who will be in attendance include: Joan Nathan, Carla Hall, and Aviva Goldfarb. The three-course lunch ($40 per person) includes selections from "Maria's Light Menu" such as mushroom salad and spice-grilled fluke, and attendees will receive a copy of the e-book. Email info@fioladc.com for reservations.
The DC Craft Bartender's Guild Repeal Day Ball at Halcyon House
Saturday, December 3, at 8 PM
Celebrate the 78th anniversary of the repeal of prohibition with a boozy, black-tie evening hosted by some of your favorite DC mixologists, including Gina Chersevani (PS 7's), Chantal Tseng (Tabard Inn), and Owen Thomson (José Andrés's Think Food Group), as well as visiting talents from Chicago, New York City, Las Vegas, and San Francisco. Around 300 guests are expected at the historical federal house; regular admission tickets are $100. For an extra $50 you can splurge on a VIP pass that gets you in the doors early and includes a copy of Jill DeGroff's book Lush Life: Portraits From the Bar. Buy tickets online here.
Pajama Brunch at Virtue Feed & Grain
Sunday, December 4
Don your pajamas and head to Virtue Feed & Grain for its monthly sleepwear-friendly Sunday brunch. The $23 prix-fixe meal includes coffee, juice, an entrée of your choice (think traditional items like corned beef hash and eggs Benedict), plus a spread of morning goodies like fresh fruit, croissants, cured meats and cheeses, and smoked salmon. Mimosas and Bloodys run $3.50 and $4.50 respectively, so sip at your leisure while listening to the Georgetown Saxatones, the university's coed a cappella group. They'll be singing throughout the meal.