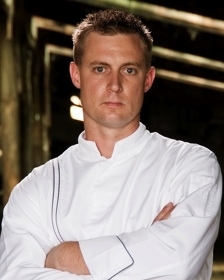 Bryan Voltaggio's time on Top Chef turned him into a household name, attracting foodies far and wide to the tasting menu at Volt, his restaurant in Frederick, Maryland. But on the outskirts of town, Voltaggio observed a different dining need. "I noticed chain restaurants packed full of families," he says. "People want something easy, where they can throw their family in the car, park outside, and have a quick meal."
So he decided to open a diner. Rumors of the project started circulating a few weeks back, but Voltaggio confirmed to us yesterday that the yet-to-be-named eatery will be housed in a former car dealership just outside downtown Frederick. The chef will retrofit the auto showroom into a classic American diner—albeit with a distinct Voltaggio touch. It will be "simple fare done really well at a moderate price," he says. While the menu isn't set, dinner options could include meatloaf, lasagna, and crispy fried chicken. And yes, there will be breakfast: Voltaggio is planning egg sandwiches, platters, and pancakes (his son's favorite).
The diner is a short distance from the 30-seat daytime cafe LunchBox, which Voltaggio opened just last weekend. There, too, the aim is to serve simple, accessible food that still boasts what Voltaggio calls "chef appeal." The opening lineup of soups, salads, and sandwiches is both adult- and kid-friendly (alphabet soup shares space with a muffuletta topped with olive relish), and generally run $5 and under. The cafe took over midday duty for Volt, which is now serving lunch only on the weekends.
With LunchBox in full swing and the diner project galloping forward, Voltaggio's other two planned restaurants—Range and North Market Kitchen—have been pushed back. Range, a "meat-centric" restaurant destined for Chevy Chase, is now tentatively scheduled to start lunch and dinner service in late summer 2012. The 14,000-square-foot space is inspired by Voltaggio's years with Charlie Palmer, but Voltaggio hopes to bust out of the steakhouse mold with wood-grilled alternative cuts of meat and hearty braises. The sleek, modern-looking spot will also have a bakery and a retail wine shop. And things only recently picked up again at North Market, Voltaggio's Eataly-style concept in Frederick, after a setback in October. It should be the last Voltaggio venture to open in 2012.
Voltaggio hopes to open the diner by April.