This was a banner year for breaking the mold in DC fashion. Between the founding of the Capital Area Fashion and Beauty Blogger network and the launch of Refinery29's DC branch, the Internet all of a sudden exploded with the fashionable adventures of women in Washington. After months of checking the blogs obsessively, we've rounded up our favorites from the year. Trust us—you'll want to bookmark these right now. We expect big, stylish things from these women in 2012.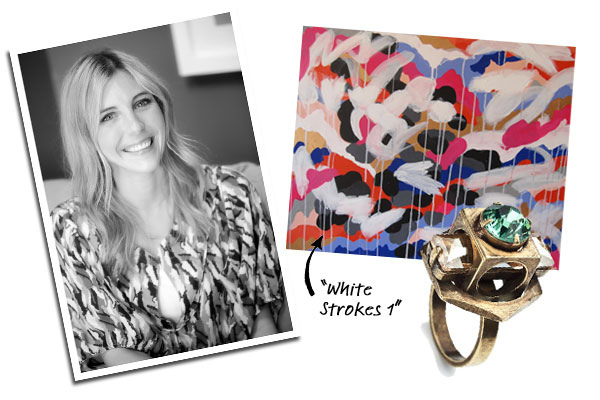 Who: Meg Biram, 28
The Blog: MIMI + MEG
Why We're Fans: Biram brings a chic, polished eye—not to mention a major burst of color—to fashion, interiors, art, and trends. The former Hallmark card designer and current artist (check out her abstract paintings here) moved to Northern Virginia in April 2011, and we're excited to see how she influences (and is influenced by) the area's preppy, professionally focused style. New for Biram going into 2012: personal outfit posts (finally!) and entrepreneurial advice.
Where She Shops in Washington: "I can always count on Georgetown to steal money from my wallet. I frequent Wink, AllSaints, Cusp, Zara, Intermix, West Elm, and CB2."
The Most Treasured Items in Her Wardrobe: "1) A chevron Diane von Furstenberg dress I bought for an important ceremony while my husband was in the Air Force. I cherish that dress. 2) A pair of Kate Spade wedges I received for hosting the launch party for the Kate Spade store in Kansas City. 3) A black leather Marc by Marc Jacobs bag. It was my first major purse purchase, and I don't regret a dime of it."
Style Advice She Swears By: "Only buy what you love. Then you'll never have a hard time getting dressed."
On Her Wish List: A Dannijo Lucas ring ($180).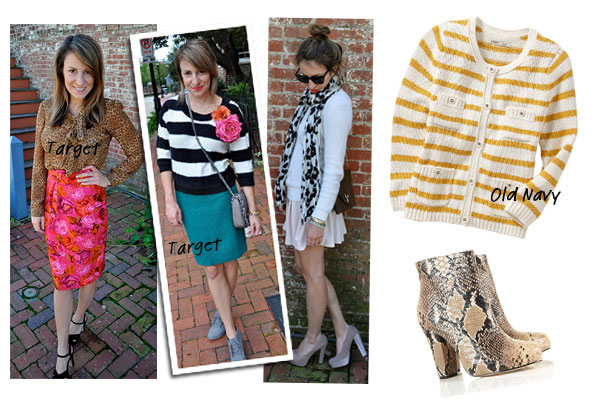 Who: Caitlin Moran, 28
The Blog: Style Within Reach
Why We're Fans: Moran's personal outfit posts are filled with affordable finds from Old Navy, Target, and Forever 21, but you'd never know it, thanks to her uncanny knack for styling. Part J.Crew with an Intermix edge, this Annapolis gal (who also blogs for the addictive The Glitter Guide) is our role model when it comes to sweet city style.
Three Favorite Things in Her Closet: "It's always changing. Right now—a little leather skirt, a faux-fur stole, and a simple kelly green shift dress."
Style Advice She Swears By: "Save on trends and splurge on classics. Never underestimate chain stores like Target and Old Navy—they often carry trendy merchandise at a fraction of the price of bigger names. I hate spending a ton of money on trends that will be outdated after one season, but I always recommend investing in timeless and classic pieces."
On Her Wish List: Old Navy yellow striped cardigan ($25), Topshop snakeskin ankle boot ($130).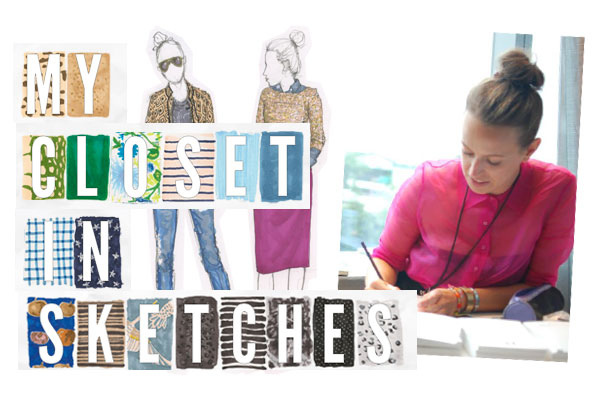 Who: Lauren Friedman, 24
The Blog: My Closet in Sketches
Why We're Fans: What started as a creative outlet in reaction to the monotony of a 9-to-5 job has turned into a full-time commitment for this stylish Shaw resident. Her self-described "boy-meets-girl prep with major swag" vibe is fun and playful, and we love the scrapbook style stories behind the outfits. Friedman's self-initiative is also totally inspirational: She taught herself to draw without a college art major or a job in design, and now she illustrates the "Dear Lucky" section of Lucky Magazine. You go, Lauren!
What She Loves About Washington: "1) The way we take advantage of our weekends. All that hard work Monday through Friday makes for a palpable, citywide "ahhhh" on Saturday and Sunday. Especially at brunch! 2) Free museums. Now that I'm an artist by vocation, it's important for me to keep my eye stimulated. I go on the weekdays when they're quiet. 3) The National Arboretum. I take everyone I know to this beautiful place—the bonsai and herb gardens are favorites."
Three Favorite Things in Her Closet: "1) An old T-shirt that was my mom's—it's from the 1979 Symposium on Humanity, and it says, "God Bless Detroit" (I'm from Michigan). 2) An alligator clutch that was my grandma's 3) My leather jacket from Madewell. It was the first splurge I ever made as an employed adult, and I have never regretted it."
On Her Wish List: A leopard cuff bracelet ($39.95).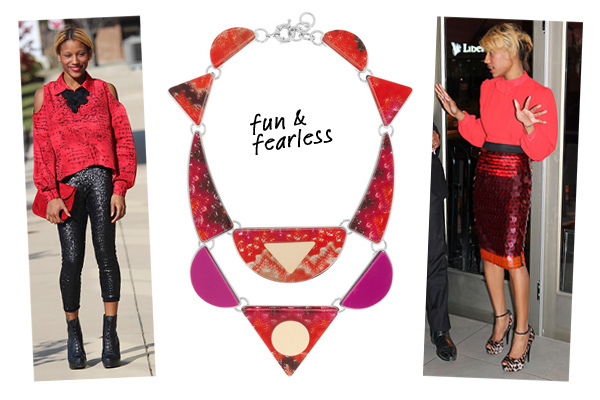 Who: Krystin Hargrove, 26
The Blog: Be Loud Be You
Why We're Fans: With model good looks and an anything-goes fashion sense, the Maryland accountant (seriously) pulls off outfits we're only used to seeing on street style blogs in New York. Oversize sequin skirts, arm cuffs, contrasting patterns—the girl does it all, and she knows how to strike a pose.
Three Favorite Things in Her Closet: "A newly purchased vintage Victor Costa dress from Thelma's Vanity, my YSL Tribute sandals, and this amazing red leather jacket with a fur-trimmed collar."
Style Advice She Swears By: "The more confident you appear in what you wear, the more appealing your style will seem to others, so it's very important to stay true to who you are."
On Her Wish List: Missoni geometric bib necklace ($352.50).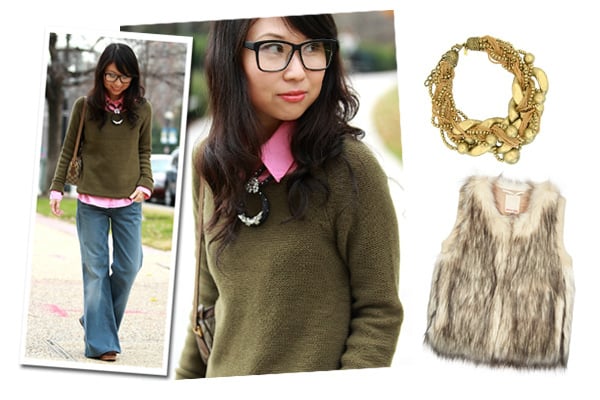 Who: Linda Park, 30
The Blog: Nom Nom Bling Bling
Why We're Fans: The Maryland native started her blog only three short months ago, but we're already dying to copy her comfy-chic looks for work. What's mostly a documentation of life outside her pharmacist job includes weekend snapshots, where we've picked up fun ideas for new nail colors; and delicious-looking meals like bacon-kimchee fried rice and egg-in-a-hole grilled cheese sandwiches.
Where She Shops in Washington: "I refuse to pay full price for items unless I know for sure it will not go on sale (e.g., classic Chanel or Louis Vuitton purses). I love Saks, Neiman Marcus, and H&M because they all give me a good price range of things to choose from."
Three Favorite Things in Her Closet: "My Theory blazer, J Brand skinny jeans, and a Balenciaga bag."
Style Advice She Swears By: "I believe it's worth it to invest in classic, timeless pieces such as a tailored blazer, a watch/jewelry, or a fantastic pair of boots that will last for seasons. These are items that will rotate in your closet and will not go out of style. If something is currently trendy right now, buy the item at an affordable store like Forever 21 or H&M because it's not worth spending money on a trend that won't be 'stylish' next season."
What She Loves About Living in Washington: "The growing food scene, the cultural diversity, and the fact that a 30- to 40-minute drive (depending on traffic) can take you into the city from the suburbs of Maryland and Virginia, and vice versa."
On her Wish List: Rebecca Taylor faux-fur vest ($175).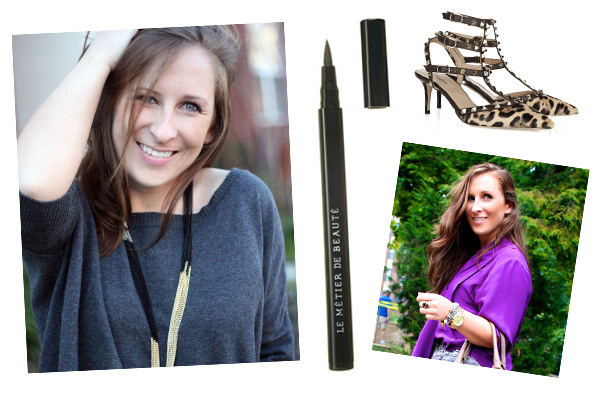 Who: Liz Fassbender, 26
The Blog: So Much to Smile About
Why We're Fans: Fassbender started blogging in August of last year—Congress was in recess, and things were moving slowly at her government relations job. Her smiley, upbeat fashion blog led to a partnership with Lacey Maffettone of A Lacey Perspective, and together they founded Capital Area Fashion and Beauty Bloggers, a fashion networking group with roughly 200 members in the Washington area. Always on the scene, Fassbender can be counted on to provide an inside look at local blogger events, and her outfit composites always seem to tap into the exact style we're craving.
Where She Shops in Washington: "I love shopping in the U Street area. There's such a great mix of vintage and designer finds from shops like Treasury, Dr. K Vintage, Caramel, Redeem, Muleh, and more. I also love Hu's Wear and Hu's Shoes in Georgetown."
Three Things She Loves About Living in Washington: "How interesting everyone is, the warm community, and constant things to see and do."
Style Advice She Swears By: "Don't be afraid to mix it up!"
On Her Wish List: Valentino calf-hair kitten-heel sandals ($1,075), Le Métier de Beauté Precision eyeliner ($42).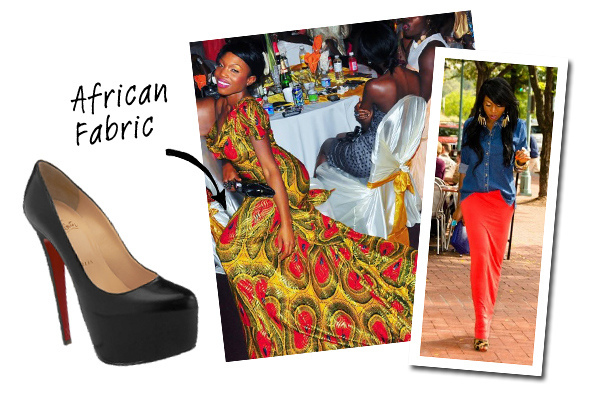 Who: Sai Sankoh, 27
The Blog: Because I Am Fabulous
Why We're Fans: Sankoh was born and raised in Sierra Leone, and her custom-made African fabric gowns are what originally caught our eye, but the part-time nurse rocks everything from thigh-high Louboutins to feather skirts with aplomb—and the hair and makeup is always at a Kardashian level of glamour. Because I am Fabulous is penned by four contributors (Sankoh is the editor-in-chief), and the newly revamped site covers everything from travel to fashion to celebrity trends. Plans for an online boutique, a foundation, and a couture line of maxi dresses and resort wear (Sankoh does seem to do a lot of outfit posts from exotic locations) are also in the works.
Where She Shops in Washington: "Neiman Marcus's Last Call at Potomac Mills. I love to invest in classic designer pieces, and getting them for a bargain is always great."
Three Favorite Things in Her Closet: "I tend to play favorites with all my stuff, but right now I have to say I love my suede and mesh cutout Christian Louboutin thigh-high boots, my thrifted fur coat, and a 1973 Gucci tote. It's large enough to carry a small laptop and a camera, which I constantly use."
On Her Wish List: Christian Louboutin Daffodil platform pumps ($1,095).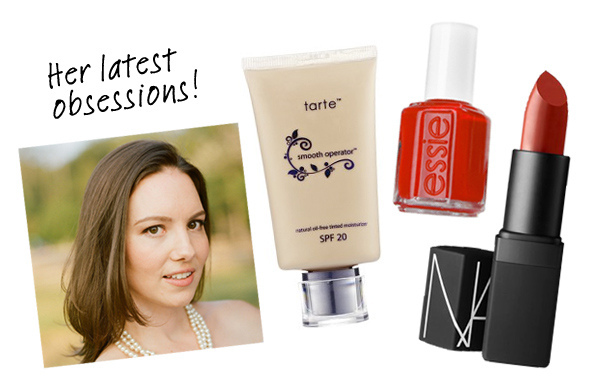 Who: Lara Ramos, 29
The Blog: The Glossarie
Why We're Fans: What started as a hobby in 2009 while Ramos was earning her MBA at American University has since turned into an upbeat, relatable beauty blog filled with the Herndon, Virginia, resident's product recommendations. Ramos was nominated for Best Beauty Voice in Lucky magazine's 2011 Fashion and Beauty Blogger Awards, and we especially love her makeup bag finds.
Where She Shops in Washington: "Reston Town Center is great because my two favorite stores, Sephora and Anthropologie, are right across the street from one another. I can find the best prestige brands and obscure, new-to-me beauty treasures all in one place."
Her Three Favorite Beauty Products of all time: "The covered lip brush, because I hate sticking my finger in pots of gloss, the spoolie brush for brows, and the Clarisonic Mia."
Style Advice She Swears By: "You don't need the most expensive products on the market. There are as many miracle workers to be found in drugstores as there are behind the beauty counters."
On Her Wish List: Essie nail polish in Geranium ($8), NARS lipstick in Schlap ($24), and Tarte Smooth Operator foundation ($36)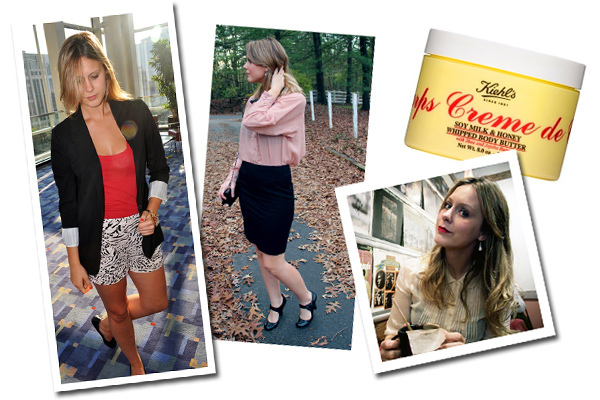 Who: Laura Hemeon, 24
The Blog: Let Your Style Speak
Why We're Fans: After a few years in Southern California, this marketing coordinator moved back to Northern Virginia and started documenting her personal interests—"fashion, finds, and decor"—on Let Your Style Speak. Her outfit posts are fun and carefree, we love that she's not afraid of shorts, and you'll also find the occasional DIY project.
Where She Shops in Washington: "Annie Creamcheese in Georgetown, because you never know what you're going to find."
What She Loves About Living in Washington: "Early Sunday mornings at the Eastern Market, the Smithsonian Museum of Natural History, and people-watching around the National Mall."
Style Advice She Swears By: "Don't be afraid of lipstick, go with what's comfortable, and let your style speak."
Three favorite items in her closet: "A vintage Chanel purse, a black cape from a thrift store, and a magenta Burberry scarf."
On her wishlist: Joseph blue cropped pants ($96).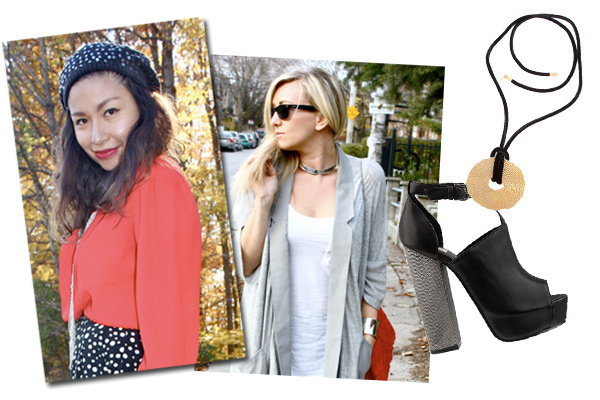 Who: Katya Ananieva (30) and Carlis Sanchez (30)
The Blog: Spicy Candy DC
Why We're Fans: You can count on this BFF duo for hipster-chic, of-the-moment looks filled with neon colors and unusual cuts. Their superb recent styling collaborations with La Petite Marmoset Vintage are changing the face of fashion creativity in Washington, and there's not a single blogger party they won't show up to. They're always hard at work outside of their daytime office jobs, and their goal for 2012 is to make Spicy Candy DC a full-time gig.
Where Carlis Shops in Washington: "If I'm not shopping for vintage, I usually go to the stores on F Street, where you'll find most of my favorite stores: H&M, Zara, Forever21, and American Apparel."
Favorite Items in Their Closets Right Now: Carlis can't get enough of her leopard fedora, vintage Dior orange blazer, and Report over-the-knee flat boots. Katya loves her Karen Walker sunglasses, Rebecca Minkoff MAB clutch, and collection of colorful vintage blazers.
Style Advice They Swear By: "Being unique will take you a long way!"
On Their Wish Lists: Dolce Vita platform booties ($219.95) for Carlis, a YSL pendant necklace for Katya.