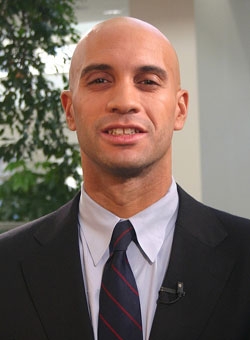 Adrian Fenty joined the small Washington trial firm Klores Perry Mitchell last July. The founder, Bruce Klores, has been a political supporter of the former DC mayor since Fenty's first city-council campaign in 2000. But because Fenty had also signed on to a consulting firm, public-speaking engagements, a visiting-professor position at Oberlin, and other gigs following his 2010 loss to Vincent Gray, it wasn't entirely clear what he would be doing for the law firm. And six months in, his job at Klores Perry still seems to be in flux.
Fenty was hired primarily to play a business-development role—helping the firm expand its personal-injury-focused practice to include business-litigation clients. But has he actually brought in any new work? His answer is vague: "There are potential clients who I would say the firm is having conversations with and/or vetting."
Fenty's new firm is still figuring out whether he'll argue any cases in court, but he will be involved in settlement negotiations. Fenty hasn't participated in any yet, but he plans to take part in mediations scheduled for 2012.
According to Klores, Fenty is at the firm about once a week.
Does Fenty have an office at the firm? Says the ex-mayor: "It's more of a desk."
This article appears in the January 2012 issue of The Washingtonian.