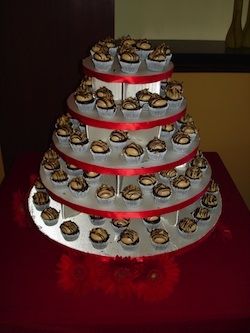 Tickets went on sale this morning for Rogue 24's upcoming Rogue Sessions dinner with chef Tim Byres of Dallas restaurant Smoke. Head to Gilt City DC's Web site now to secure your spot—this week's feasts, to be cooked by Bryan Voltaggio, were gone in a flash.
Just in time to break those New Year's diet resolutions: Winter Restaurant Week begins Monday, and there's no avoiding dessert in these three (or more) course prix-fixe meals, set at $20.12 for lunch and $35.12 at dinner. There are a ton of restaurants to choose from, so we've created lists of RW newcomers; eateries serving brunch and other special menus; and tips from industry vets like chef Jeff Black and Metrocurean's Amanda McClements on navigating the sea of deals. Slammed this week? Check out our roundup of extended deals.
In addition to its RW menu, Fiola is rolling out a four-course meal with wine pairings ($60 per person) that is themed around Tuscan flavors. That starts today, runs through the 21st, and includes dishes like tomato soup with a grilled Tuscan pecorino sandwich, linguine with seafood, and braised Florentine short ribs. A special menu of Piedmontese dishes debuts January 23.
On Tuesday, head to cozy cocktail den Wisdom. Scott Harris, master distiller at Catoctin Creek in Purcellville, is pairing his gins and whiskeys with confections by MC2 chocolatier Merideth Cohrs. Talented "gintender" and Wisdom owner Erik Holzherr is mixing up Catoctin cocktails to go with the chocolates, so it should be a pretty smashing (smashed?) evening. Tickets are $35 online or $40 at the door.
Washington Restaurant Week gets all the love, but there's a lot to like about Alexandria Restaurant Week, which starts Friday, as well. Try a $35 dinner at neighborhood faves like the Majestic and A La Lucia; deeper deals can be found at eateries like Pizzeria Paradiso and Cheesetique, where $35 buys dinner for two.
The Orange Arrow—chef Carole Wagner Greenwood's pop-up dining experience— is back on Friday from 7 to 9 with an Alice B. Toklas–themed dinner at the Artisphere Terrace Gallery at 7 PM. The James Beard Award–winning toque and former Buck's Fishing & Camping owner has designed a three-course menu with cocktails and hors d'ouevres around the Alice B. Toklas Cookbook. Some things have clearly changed since the pop-up started (e.g., the location has been disclosed), but you can get a feel for what the experience could be like over at BYT. Tickets are $150, and a nonrefundable payment is required to reserve.
Over at the glitzy Park Hyatt, there are two events with spaces left on Saturday Friday during the Masters of Food & Wine celebration. Those looking to spend a good hunk of change ($175, to be exact) can watch as Blue Duck Tavern's chef de cuisine John Melfi demonstrates cooking cassoulet with Eco Friendly Farms ingredients at 3, and then sit down for a mid-afternoon tasting of the French delicacy paired with Ravines Cellars Wines. Tea-totalers will prefer a seminar and tasting of rare teas from certified "tea master" Rodrick Markus ($45) from 5:30 to 7 3 to 5:30.
Skip the weekend workout and head to the Crystal City Shops for the Washington Wine Academy's annual 1K Wine Walk on Saturday and Sunday. There's no running or Gatorade involved, but you can exercise your palate (har-har) by tasting 30-plus beers and wines. Tickets—which are mostly sold out for Saturday, and expected to go fast for Sunday—are scheduled for "heats" every half hour, and include 20 tasting permits and a free T-shirt. Note that you may have to sip swiftly during later entry times, as law dictates that the wine stops flowing at exactly 7 PM.
So you raced through the wine walk and then went for a victory lap around U Street. There are two reasons to head to Bourbon in Adams Morgan this Sunday: a solid hangover-curing brunch (Kentucky hot browns! Tater tots!), and a viewing party for the Sticky Fingers Sweets & Eats episode of Food Network's Cupcake Wars All-Stars from 7 to 10. The show airs at 8, but you can occupy yourself before and after with gratis cupcakes, face time with founder Doron Petersan and head baker Jenny Webb, and thirst-quenching $3 DC Brau beers and cupcake-themed punch. Die-hard fans may want to get there early for a good view, as the event is free and open to the public.