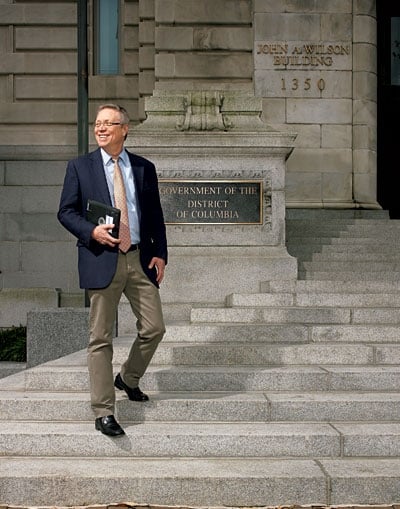 Tom Sherwood fell in love with Washington in 1968 while stationed here in the Navy. During that year's riots, sailors were confined to base. Sherwood saw smoke rising and, acting on his journalistic instincts, decided to get out and see things up close. The experience was harsh but fed his fascination with DC. Later, back in his native Georgia, where he reported for the Atlanta Constitution, he jumped at the chance to return.
Sherwood joined the Washington Post as a desk and "makeup" editor in 1974. He's been covering the area ever since—the last 22 years as a reporter for Channel 4 as well as an analyst on The Kojo Nnamdi Show and a columnist for the Northwest Current.
"Between his career in the military, the Post, and NBC4, Tom has always had one fundamental mission in life—the creation of a better Washington," Nnamdi says. "He wants to see Washington live up to his highest ideals."
Sherwood relishes the chance to play tour guide—showing off areas of the District such as Deanwood and Glover Park, the beautiful houses in Southeast DC, and the dynamism of the part of Southwest where he lives. "Tysons Corner is trying to do what we've done," he says, citing his neighborhood's new mix of residences, Nationals Park, and Arena Stage.
What holds him is the daily challenge of "telling people something they didn't know."
Sherwood's Washington is a place of communities, not monuments. "The neighborhoods will save the city—people invest in their neighborhoods," he says. "Local Washington is only as good as the people active in it."
This article appears in the January 2012 issue of The Washingtonian.