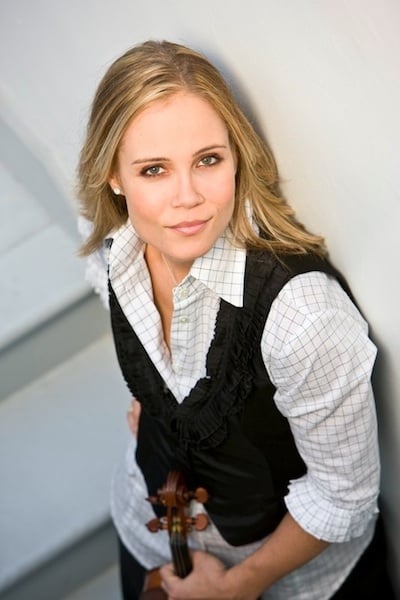 Thursday, January 12
FILM: The Alliance Française of Washington will host of screening of L'Illusionniste (The Illusionist) at Letelier Theatre. The film won Best Animated Feature at the 2011 César Awards and the Best Animated Film at the 2010 New York Film Critics Circle. The movie will be shown in French with English subtitles. Tickets ($9) can be reserved through the event's Web site. 7 PM.
MUSIC: Jammin Java's Mid-Atlantic Band Battle returns with more than 25 bands. Tonight's performers include Classified Frequency, Adam in America, Shoot the Radio, Buster Brown and the Get Down, the Greater the Risk, Madrone, and TheRuinCity. Tickets ($10) can be purchased through the club's Web site. 7:30 PM.
Violinist Leila Josefowicz joins the National Symphony Orchestra at the Kennedy Center. Josefowicz, who made her Carnegie Hall debut at 17, will perform Mackey's Beautiful Passing. Tickets ($20 to $85) can be purchased through the KenCen's Web site. 7 PM. The show runs through January 14.
HAPPY HOUR: Brightest Young Things and the Kennedy Center are gearing up for the upcoming production of La Cage aux Folles with a free happy hour at Lost Society. Enjoy drink specials, ticket giveaways, a "kissing photo booth," music by DJ Cale, and more. Guests must RSVP through Eventbrite. 6 PM to 9 PM.
KID-FRIENDLY: Young adult author Christopher Paul Curtis will sign copies of his new novel, The Mighty Miss Malone, at Politics and Prose. Curtis won a Newbery Award for The Watsons Go to Birmingham—1963. Free. 10:30 AM.
Friday, January 13
PARTY: Tickets to Thievery Corporation's 9:30 Club concert are sold out, but you can still catch a glimpse of the electronica duo at the Eighteenth Street Lounge's official after-party. Guests can enjoy music by DJ Pleasuremaker and specialty cocktails named after the band's albums. Tickets ($5, free for concert-goers) can be purchased at the door. 10 PM.
WINE: Channel your inner Sherlock Holmes during City Square Cafe's murder mystery wine dinner aboard the SS Minnow. Sleuths can enjoy a four-course spread featuring conch fritters, cucumber soup, roasted pork loin with mango salsa, and passion-fruit panna cotta. Each course will be paired with a wine from Three Fox Vineyards. Tickets ($64) can be reserved by calling 703-369-6022.
FOOD: Alexandria Restaurant Week kicks off today with nearly 60 restaurants offering $35 three-course dinners or meals for two. Click here for a list of participating venues.
MUSIC: Hip-hop artists Tabi Bonney is dropping by the Black Cat tonight. Read our interview with the man who makes crowds go crazy when he says, "I'm from DC." You can listen to some of his songs here. Tickets ($15) can be purchased through the club's Web site. Doors open at 9 PM.
Saturday, January 14
DANCE: The KanKouran West African Dance Company will honor Martin Luther King Jr.'s birthday with a special performance at Dance Place. The DC-based group incorporates dance, music, and drumming. Tickets ($22) can be purchased through the studio's Web site. 8 PM. The show runs through January 15.
MUSIC: Eighties rock band the Smithereens are dropping by the State Theatre tonight. Rolling Stone says they "still crunch harder than most of the power-pop acts they get filed alongside." Tickets ($20) can be purchased through the theater's Web site. Doors open at 7 PM; the show starts at 9.
Violinist Itzhak Perlman joins the Baltimore Symphony Orchestra at Strathmore. The concert will feature music by Vivaldi, Mozart, and Brahms, along with two movements from Vivaldi's The Four Seasons. Tickets ($48 to $108) can be purchased through Strathmore's Web site. 8 PM.
COMEDY: George Lopez is bringing his standup tour to DAR Constitution Hall. Lopez's recent film credits include Rio, The Smurfs, and Valentine's Day. Tickets ($58) can be purchased through Ticketmaster. 8 PM.
KID-FRIENDLY: The Capitol Hill Arts Workshop invites young artists to help paint a mural for an orphanage in Mumbai. The event is part of CHAW's 40th anniversary celebration, which features 40 free events in 40 days. Recommended for ages 5 to 18. Free; call 202-547-6839 to register. 10 AM to noon.
Sunday, January 15
THEATER: Two Kennedy Center favorites close today. In the Tony Award–winning musical Billy Elliot, a working-class boy discovers his affinity for ballet. "The dancing is electric, the story is heart-warming, and you can't help but be mad about the boy," says lifestyle editor Leslie Milk. Read the full review here. Tickets ($25 to $150) can be purchased through the KenCen's Web site. 1:30 PM.
Also closing today is Holland Taylor's Ann , a one-woman show about late Texas governor Ann Richards. Arts editor Sophie Gilbert calls Ann a "blisteringly funny, meandering show that's notable mostly for how vividly Taylor captures the spirit of her icon." Read the full review here. Tickets ($54 to $95) can be purchased through the KenCen's Web site. 1:30 PM.
ART: The Hirshhorn's "Andy Warhol: Shadows" exhibition also ends today. The collection showcases 102 silkscreened and handpainted canvases. Read our review here. Free.
KID-FRIENDLY: Bring the whole family to the National Museum of the American Indian for the Native Storytelling Festival. Enjoy stories told through dance, hands-on activities, films, and more. Free.