Interesting basics are a perpetual conundrum—what goes with everything in your closet and isn't a boring black blazer or tan skirt? When you do find that piece, hold on to it for dear life—then style the heck out of it. One of our favorite wear-more-than-once-a-week items is the striped pencil skirt (especially Tibi's midi-length version). When doused in nautical chic, the conservative shape can be whimsical, edgy, or professional depending on what you pair it with. Here are four fun ways we'll be styling it this winter.
1. Paired with Polka-Dots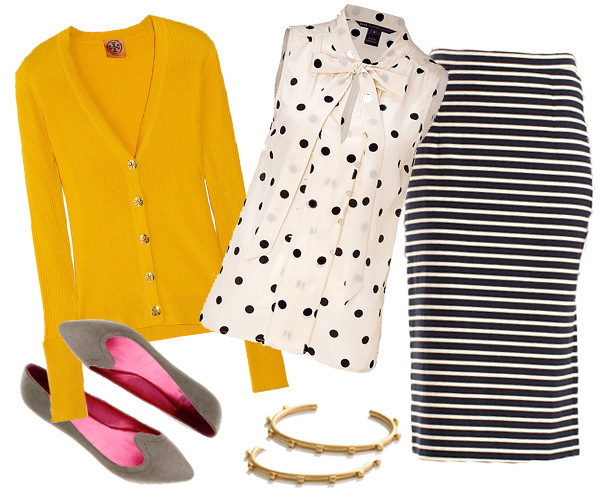 Keep everything in the same color family, and this pattern mashup is actually super polished. A bow-tie neck, a cheery cardigan, and closed-toe flats make it a perfect combo for a more casual day at the office.
Tory Burch ribbed cotton cardigan, $225 at Net-a-Porter; Marc by Marc Jacobs Hot Dot top, $228 at Bloomingdale's; Belle by Sigerson Morrison suede flats, $195 at Madewell; Staccato stud bracelet, $24 each at Madewell.
2. Underneath a Shirtdress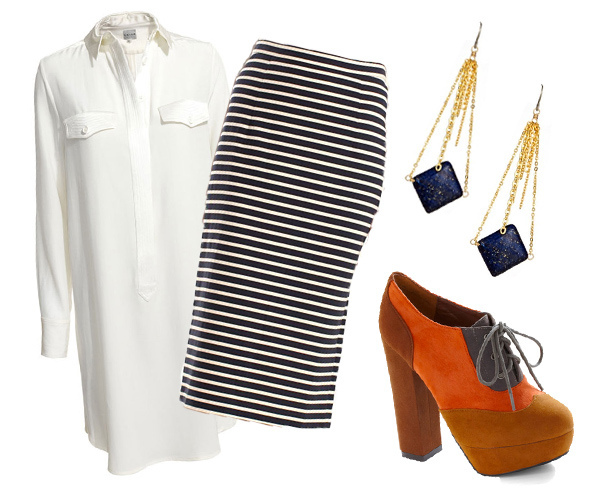 This creative pairing is a great look for a gallery opening. Throw on navy or burnt orange tights if it's really chilly out, and resist the urge to belt or tuck in the shirtdress. If it fits right (you want it to be looser than a button-down, but not quite as a flowy as a nightgown), you'll add just the right hint of casual to the mix.
Hailey shirtdress, $150 at Reiss; Nefertiti lapis earrings, $158 at Gemma Redux; Monarch wingtip heel, $57.99 at Modcloth.
3. As an Unexpected Accent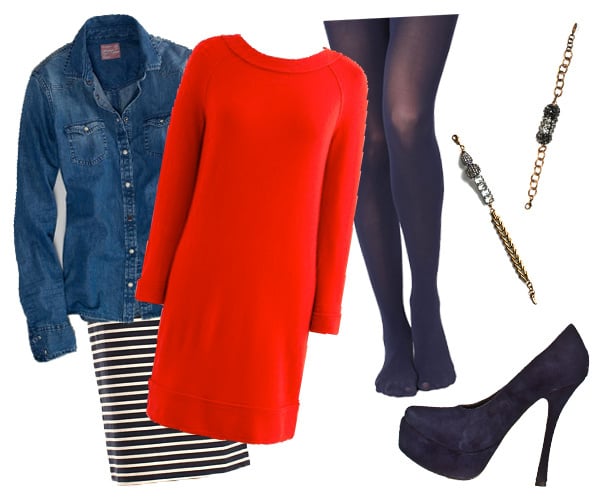 We're always thinking about how we can layer over a dress when the weather gets cold, but what about underneath it? A flash of stripe just below your sweater dress hem is a fun touch, and it'll help keep your bum warm. Pair with high heels and tights in the same shade to keep the extra length from making you look stubby.
Dark denim shirt, $39.50 at AE; cashmere tee dress, $2328 at J.Crew; Eloise opaque tights, $15 at Anthropologie; Himalayan graphite and brass bracelet (top), $66 at Beth Lauren; Highlander bracelet, $88 at Beth Lauren.
4. In a Rocker-Worthy Combo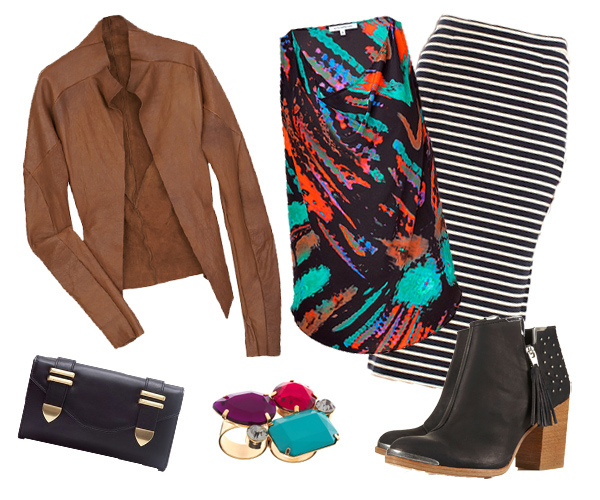 A pencil skirt may seem prim and preppy, but trust us when we say it doesn't have to be. When paired with a deconstructed leather jacket, a boldly printed tank, and studded ankle boots, the look is way more Alexis Krauss than Doris Day. Wear with a tough-looking clutch and a geometric ring to see your favorite band at the 9:30 Club.
Bess Sioux raw-edge leather jacket, $504 at the Outnet; Faith Connexion multicolor silk tank, $270 at Stylebop; Psychic3 studded ankle boots, $220 at Topshop; multi-band ring with geo stone design, $11.64 at ASOS; Uma leather wallet, $128 at Nasty Gal.