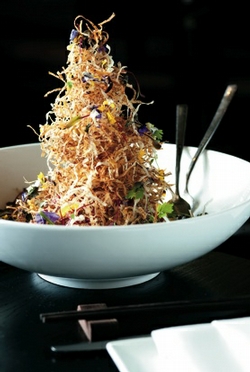 Today marks the beginning of the two-week celebration of the Chinese New Year, and you know it'll be a good Year of the Dragon when Warren Buffett kicks it all off with a televised ukulele serenade. High rollers will want to head to the Source, where chef Scott Drewno concocts a delicious-sounding five-course menu ($125 per person; $175 with wine pairings). The lineup of wok-fired lobster dumplings, smoked Peking duck, house-made fortune cookies, and more is available through Friday, February 3, which will also be the best evening to reserve: megastar chef-owner Wolfgang Puck will be in the house. Call 202-637-6100 if you want to rub elbows with the grandaddy of Cal cuisine (reservations are for tasting menu only on the 3rd; the à-la-carte menu is offered as well on other dates).
Slightly less pricey but also chic is Zentan's four-course menu ($47.10 per person), which is served in the sleek Donovan House dining room through Saturday. Chefs Susur Lee and Jaime Montes de Oca are presenting a menu that includes a choice of dishes such as Lee's elaborate 19-ingredient Singapore slaw, crispy red snapper with black bean sauce, and stir-fried "longevity" noodles. More in the mood for a New Year steal? Stop by Ping Pong Dim Sum through February 6, where giveaways and discounts are on offer (see here) including free glasses of Champagne for the ladies on Tuesday; comped cocktails for dragon boomers; and dim sum giveaways during happy hour. There is also an extensive two-course set menu for two ($70, including two cocktails). And you'll find a similarly priced feast over at Asia Nine, with four courses for $35.
If you're planning on catching the big Chinese New Year parade through Chinatown on Sunday at 2, you might as well grab lunch first. Full Kee is one of our neighborhood favorites, with a huge menu of classic go-tos like shrimp wontons and clams in black bean sauce. New Big Wong is also a solid pick, and a favorite of the aforemention Hong Kong–born Susur Lee, who makes a point to visit whenever he's in town.
In non–New Year events this week, get your wallets out—it's another restaurant week! Bethesda begins its week of deals today through Sunday, where special $13 to $16 lunches and $33 dinners are available at more than thirty spots, including Jaleo, Food, Wine & Co., Redwood, Grapeseed, and more. If you're District-bound, there are still a few extended Winter Restaurant Week deals sticking around at restaurant like Dino, Perrys, and the Prime Rib.
A happy second birthday to A.M. Wine Shoppe. It's celebrating on Saturday with a lot of wine, beer, and spirits. Head to the AdMo shop between 1 and 7 PM for an afternoon of free tastings of all the above, store-wide discounts, samples of meat and chocolate from White House Meats and El Ceibo Chocolate (respectively), and presentations by local chefs and mixologists; see the full lineup, with times, here. Donations for Food & Friends will be accepted for party people who feel like giving back.
If you're not a member of Grey DC, sign up (it's free!) and then head to the semi-underground market on Saturday once the location is sent to you via e-mail. The rotating vendor list is less hush-hush, and should psyche you up for offerings like fruit "sushi," fresh-baked goods, salsas, and pork-centric Caribbean food.
To help prepare for Valentine's Day/the rest of your cooking life, there's a "culinary crawl" along Barracks Row on Sunday, where invaluable lessons and tasty treats will be doled out from a variety of restaurants and vendors. A lot of the events are sold out, but as of right now you can still sign up for mixology lessons at Zest Bistro, learn how to shuck oysters at Senart's, taste Champagne at Chat's Liquor, and more.