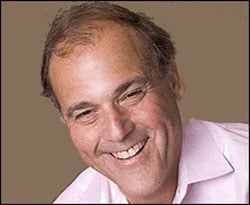 Well-known and popular political commentator Mark Plotkin has been fired by WTOP radio for "personnel issues," according to Jim Farley, the station's vice president of news and programming. Plotkin had been with WTOP for ten years and hosted the weekly Politics Program With Mark Plotkin. He is friend to many of the city's political leaders.
The firing happened today. In an interview, Farley said, "We have parted ways. His show was canceled. It will be replaced by news." When pressed about the "personnel issue," Farley said, "It's the kind you can't comment on." But he did say the decision came from management, had nothing to do with any demands, was not an economic cut, and that Plotkin "was doing a fine job, and it has nothing to do with competition."
Farley also said the issue had been "brewing" for a while.
Given that this is a presidential election year, we wondered if Farley would quickly try to fill Plotkin's slot with a new political commentator. "Yes, eventually," he told us, "but we have strategic partnerships with Politico, CBS, and CNN. We have an abundance of riches when it comes to political coverage."
Finally, he said that the firing "was done without rancor. Mark and I are still friends." There was a severance package included.
Calls for comment from Plotkin have not yet been returned.