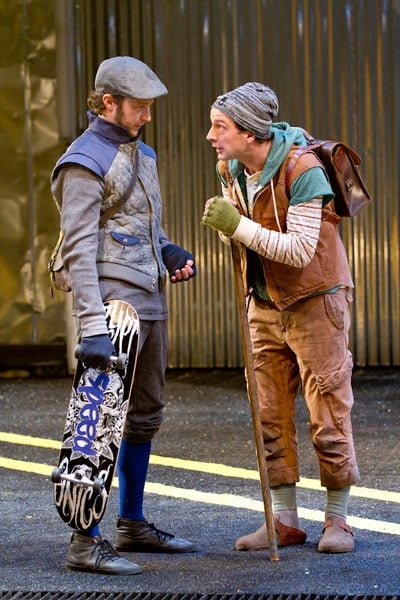 Long before the time of MTV2's reality lineup and Stephanie Meyer, a more erudite source had some fun exposing the folly of hormonal teenagers' impulsive decisions. In what was likely his earliest foray into romantic comedy, Shakespeare turned his keen eye for human antics toward the tangles of lovesick adolescents when he wrote The Two Gentlemen of Verona at the end of the 16th century. Shakespeare Theatre Company's Two Gentlemen, now playing at the Lansburgh Theatre, supplants Verona for wealthy teenage suburbia where, firmly in the idle hands of Generation ME, the story's evergreen lessons telegraph as loudly as its iPod playlist.
Director PJ Paparelli's production plunges into the privileged teenage psyche well before any actors step onto the stage. Heineken, Trojan, and Apple logos plastered across a forest of dented aluminum set pieces bring to mind the trash can overflowing with crumpled beer cans after a house party. So introducing the play's characters ripping late-night shots of Jack Daniels in an empty parking lot seems about right. With Ben Folds's piano blasting and set designer Walt Spangler's nifty electronic message board tweeting snarky exposition overhead, we meet Valentine and his best friend, Proteus. The young men have reached that bittersweet point of impending adulthood, and Proteus ( Nick Dillenburg), in the grips of young love, has opted to stay in Verona with sweetheart Julia ( Miriam Silverman), while cynical Valentine ( Andrew Veenstra) is bidding his buddy farewell in favor of big-city living in Milan.
When Proteus's father orders him to join his friend in Milan, he and Julia vow, during a tearful goodbye, to love each other forever. But upon his arrival in the city, Proteus quickly learns what generations of lovelorn young people have inevitably discovered in their own first journeys away from home: There are plenty of other fish in the sea. Only this particular fish—the beautiful Silvia (a glowing Natalie Mitchell)—just happens to be his best friend's girl. This being Shakespeare and all, plotting, deceit, disguise, misunderstanding, sassy servant sidekicks, and climactic conflicts follow suit.
Directors have a penchant for treating Shakespearean works as something of a blank slate, a canvas for whoever can paint the most inventive "theme." Paparelli, who served as the company's associate director from 1998 through 2004, carefully navigates that trap here, creating an unexpected environment that edges toward the gimmicky. Modern musical choices from Beyonce to U2 amp up the Four Loko–esque energy, though sporadic impromptu a capella harmonies and karaoke interludes occasionally feel out of place.
The actors who play the four lovers have been tasked with a difficult challenge in tackling a story critics have chastised for centuries for its dramatically fluctuating action and too-tidy conclusion. Making the characters' choices believable requires emotional range these principals fall just short of. Even selfish, rash teenagers would demonstrate some initial sense of regret and trepidation for betraying a friend or lover (in fact, they'd probably be emo-posting about it all over their Facebook pages), and though all four actors are enjoyable to watch, that depth doesn't always come across in this production. Supporting players, such as Brent Harris's commanding Duke of Milan, and servants Speed (Adam Green) and Launce (the well-pedigreed Euan Morton) offer some needed nuance.
And as anyone familiar with this lesser-known classic could tell you, another cast member has a particular talent for scene-stealing—a shaggy, four-legged cast member. Crab, servant Launce's canine companion, played with the precious, oblivious abandon one would expect from a live dog (Oliver, a sandy-coated terrier), kept up the joke Shakespeare knowingly included in his script—namely that audiences are delighted by the comic relief of live animals and their unpredictability.
Ultimately, it's that same handle on human predictability (particularly when it comes to teenage passion and recklessness) that makes Two Gentlemen, like so many other Shakespeare plays, endure. The script marks the playwright's first attempts at so many of the dramatic and comedic devices we know today: young lovers escaping under the cloak of night; servants providing the sagest wisdom; heroines in drag. He would do it better in his later shows, but that doesn't mean Two Gentlemen should be overlooked.
The Two Gentlemen of Verona is at the Shakespeare Theatre Company's Lansburgh Theatre through March 4. Tickets ($39 to $90) are available through Shakespeare Theatre's website.