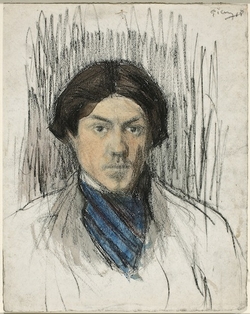 Some talents are so gargantuan, so utterly incomparable, that they seem to be ordained, not earned. Most normal mortals could hardly begin to aspire to the dizzying heights of Mozart, or da Vinci, or Wayne Gretzky, no matter how many years of tedious slog they put in. So it can be strange, then, to see a legend deconstructed—reduced to early experiments, simple sketches, and occasional flashes of the genius that would come later.
Such is the feeling of "Picasso's Drawings, 1890–1921: Reinventing Tradition," which opens in the National Gallery of Art's West Building Sunday. The show accompanies the unveiling of the revamped French Galleries upstairs, and could hardly offer more of an intriguing juxtaposition. Many of the French paintings are masterpieces—polished, composed, slick. What you see in the Picasso show instead is the growth of one of the 20th century's most formidable and groundbreaking talents, in three decades of work starting when the artist was nine and ending when he was 40.
For eyes more accustomed to irreverent, almost comic cubism, the seriousness of some of young Pablo's early sketches might come as a shock. One of the first works in the show is "Hercules," a rough drawing of a nude man wielding a weapon high in the air. The shape of the figure is disproportionate and clunky, the face distinctly awkward. Granted, most nine-year-olds could only dream of such work, but that doesn't mean the sketch doesn't give off a distinctly amateurish vibe amid the hallowed hallways of one of the nation's great museums.
Luckily, in later portraits comes the elegant draftsmanship one feels entitled to see in such a show. "Study of Torso," done in 1895 when the artist was 14, is a graceful charcoal-and-pencil drawing of a plaster cast, its lines clearer and more distinct. And "Study from Life (Male Model)," done a year later while the artist was studying in Barcelona, is almost photorealistic, vaguely resembling an old Victorian daguerreotype in its precision. The subject's expression is bored and slightly cross, as if he resented posing for teenagers while wearing a loincloth (who wouldn't?).
Later, things get more interesting—and less cautious. Picasso begins to play with form and style in "Mother and Child on the Shore" (1902), a pastel drawing done in simple tones and very few lines, the mother's eyes starting to bear the hooded, oversized effect of the artist's more famous works. And in "Study of Seated Female Nude," done four years later in Paris, experiments with proportion and composition are clear. Drawn roughly in blue ink with a broad brush, the sketches are done hastily, as multiple ideas on a piece of paper. But in the bottom right-hand corner, a face stares out, one eye noticeably bigger and slightly higher than the other.
Later sketches veer into distinct cubism, such as "Standing Nude," (1910), an abstract jumble of lines and shapes unrecognizable as any human form. And a series of still lifes done in 1912 and 1913 plays with collage, using real and imagined shadow to explore light and perspective. What's fascinating is how distinctly the exhibition traces the evolution of a style, from inconspicuous early drawings to fully fledged experiments. This might not be a flashy or indulgent show, but its focus and range is subtle and gratifying. If the old adage that you have to learn the rules before you can break them is true, it's on full display here.
"Picasso's Drawings, 1890–1921: Reinventing Tradition" is at the National Gallery of Art's West Building January 29 through May 6. For more information, visit the gallery's website.