Local newsman Gordon Peterson collected $1.8 million for his Georgetown home (left). Under Armour CEO Kevin Plank paid $1.5 million for this house in Georgetown (right). Photographs by David Pipkin.
In DC: Two finance executives struck a deal at Georgetown's 3303 Water Street, one of the city's most expensive condo buildings. Charles O. Holliday Jr., the former DuPont CEO who now chairs Bank of America's board, paid Legg Mason's Peter Nachtwey $4.6 million for a three-bedroom, four-bath unit. The condo has floor-to-ceiling windows with views of the Potomac River. Nachtwey, former chief financial officer of the Carlyle Group, joined Legg Mason last year.
Technology executive Tom DePasquale sold a four-bedroom, five-bath condo on Connecticut Avenue in Kalorama for $3.1 million. The 5,400-square-foot unit includes a dining room with space for 20. DePasquale has held senior positions at several software companies including Concur Technologies, which provides travel-and-expense-management solutions.
Lawyer Mickey Kantor and his wife, journalist Heidi Schulman, sold a four-bedroom, five-bath Federal-style rowhouse on Olive Street in Georgetown for $2 million. The house was on the market for nearly a year. A former Secretary of Commerce and US trade representative, Kantor is a partner in the DC office of Mayer Brown. Schulman is a former NBC News correspondent and former board member of the Corporation for Public Broadcasting.
Longtime local TV news anchor Gordon Peterson and his wife, Anne Fleming, sold a Federal-style home in Georgetown for $1.8 million. Built in 1890, the house has four bedrooms and four baths. Peterson is an anchor for Channel 7 as well as moderator and producer of the talk show Inside Washington.
Under Armour CEO Kevin Plank bought a four-bedroom, three-bath Federal-style house in Georgetown for $1.5 million. Built in 1791, it has five fireplaces. Plank started Under Armour, an athletic-clothing company, in 1995 when he played for the University of Maryland football team.
Ellen Tauscher bought a condo on 33rd Street in Georgetown for $825,000. The two-bedroom, three-bath unit has two patios. A former Democratic member of Congress, Tauscher is undersecretary of State for arms control and international security.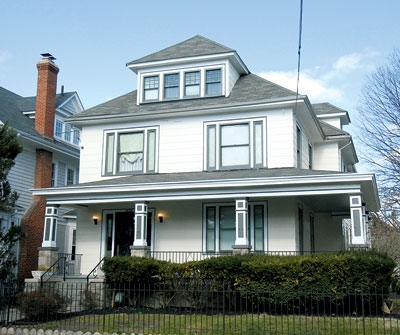 Former DC schools chief Michelle Rhee sold a five-bedroom, four-bath home in 16th Street Heights for $840,000. The house has a wraparound porch and a master suite with den. An Adrian Fenty appointee, Rhee was chancellor of DC public schools from 2007 to 2010; she resigned in the wake of Fenty's reelection loss to Vincent Gray. Rhee now heads the advocacy group StudentsFirst, which works to reform America's public schools.
Journalist Dana Hedgpeth bought a three-bedroom, three-bath Colonial on Ingomar Street in Chevy Chase DC for $800,000. Within walking distance of the Friendship Heights Metro, the house sold in less than a week. Hedgpeth is a reporter for the Washington Post, where she covers transportation and local development.
In Virginia: Finance executive Fernando Murias sold a two-bedroom, two-bath condo in the Wooster and Mercer Lofts—a luxury complex in Arlington's Courthouse neighborhood—for $1.1 million. The corner-unit penthouse has a terrace with a Jacuzzi. A partner at the accounting firm PricewaterhouseCoopers, Murias is also chairman of the Greater Washington Sports Alliance, a nonprofit that attracts sporting events and professional teams to Washington.
Finance executive Curtin Winsor III and wife Deborah also sold a condo in the Wooster and Mercer Lofts—a two-bedroom, two-bath unit for $1 million. It has glass walls that overlook a pool and courtyard. Winsor cofounded Bank of Georgetown in 2005.
Some sales information provided by American City Business Leads and Diana Hart of TTR Sotheby's International Realty.
This article appears in the February 2012 issue of The Washingtonian.