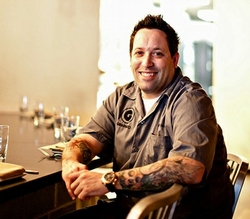 "This is not classic food," says Mike Isabella, pointing to a draft of the Bandolero menu. "The tradition is there, but then it's the Mike Isabella touch."
A few days before Living Social announced a new pop-up project that will preview the menu at Isabella's forthcoming Mexican restaurant in Georgetown, the Graffiato chef had just returned from an eating trip to San Francisco—the final leg of a three-city tour designed to familiarize himself with the offerings at the best Mexican eateries around the country. In between these jaunts, he's been poring over the Mexican cookbook canon, "from Diana Kennedy, the classic, to Rick Bayless and some of the modern stuff." The Bandolero menu has yet to be finalized—Isabella says he'll likely make tweaks up until two weeks from the opening—but the chef seems to have nailed down the lion's share of the dishes.
Here's the scoop on what to expect:
Margaritas:
"Margaritas are going to be all over the place. Every table, everywhere. How could you go to a Mexican restaurant and not get one? I have two phenomenal guys running the beverage program, Sam Babcock and Ryan Jones, who was the beverage director at Zaytinya. We're going to have a signature frozen margarita; the flavor will change weekly. We're going to have lots of tequilas, mezcal, and pulque, which is fermented agave. A lot of classic drinks that are inspired by rum, gin, whiskey, but instead of using those spirits we're going to be using tequilas. Like a mezcal Old-Fashioned, you know what I'm saying? Or an añejo Manhattan."
Chips and salsa:
"The number one thing that I've been thinking about is: 'What am I going to do with salsa?' I've decided if you request it, yes. I have chips and I have different salsas. It will not be on my menu. Because people are going to criticize me if I charge, and people are going to eat all my chips and salsa if I don't charge, and they're not going to eat my food, and I can't make a living."
Guacamole:
"Yeah, I'm going to have a guacamole, and you can have it with chips, or you can have it with chicharrónes, which is something a little different. Everyone uses the molcajete [mortar and pestle]. I'm definitely not using the molcajete. I don't want this big rock on my table."
Sikil pak:
"I'm going to have another dip called sikil pak. It's one of the world's oldest sauces. It's made from pumpkin seeds, which were indigenous to Central America. I wanted to do something classic that you never see at Mexican places out here, and I feel like I make a great pumpkin-seed sauce."
Soups:
"I'm only going to do two soups. Classically, tortilla soup is made with chicken. I know I can make a beautiful shrimp stock, so why not have a shrimp broth and, like, mussels in there, some nice poached shrimp, and also a little bit of chorizo to get that Portuguese feel? Posole, it's a real classic. I'll have a nice poached egg on top with some crispy pork belly. Clean it up a little bit, make it a little pretty."
Taquitos:
"People think taquitos are, like, you stuff 'em and you roll 'em up and you fry them. For me it's just a baby taco. We're going to have little taco shells, and instead of having a ceviche section, this will be more like that. Raw tuna, raw snapper, raw beef."
Fajitas:
"Am I going to do fajitas? Am I going to do casuelas? I'm not sure what I'm going to call it yet. But I am going to have something that's hot, that's cooked, and it's going to be a little more expensive, but it's going to be meant for sharing at the table. You'll have a whole lobster, half a chicken, and a nice piece of Kobe steak. And you'll have all your accoutrements to go with that. It will come out sizzling."
Tacos:
"I want the best tacos, period. I'll confit a whole pig, and then we'll make a nice apple-and-onion butter and we'll slowly cook it down. So we put that crispy confit pork on top of that apple purée, and then we make a mustard with habañero and pickled mustard seed. Again, this is not classic food. We have charred asparagus with some spinach purée, a little beet salsa on top with some orange and habañero. Most of my tacos will be open-faced, and some will be tied up like little Lincoln logs. I'll probably serve three tacos per, so they'll probably be around the $9 to $13 range."
Traditional Dishes:
"Nachos, sopes, chilaquiles, queso fundido, tostadas—all these things are real classics to me. And then we just put our touches on them. Like nachos. I want to do one where I crisp up goat and instead of black beans do white beans. Really creamy and rich and very herbaceous. Probably some jack cheese on there. You see goat tacos, but goat nachos I've never seen before and thought it would be really cool because I like to eat goat, you know? I'm going to have a chicken enchilada and a vegetable. And albóndigas—I make a good meatball. So it will be with Mexican flavors but Grandma's style."
Check back with us for updates on Bandolero's opening date.