Whether you're looking for a simple yet delicious appetizer for a get-together or trying to wow your valentine with your culinary skills, Cork chef Rob Weland has you covered. The avocado bruschetta is a favorite on the cozy wine bar's menu, and is perfect for couples (halve the recipe if you're serving it with a main course) or a Valentine's Day party. On the other end of the spectrum, seared scallops with pickled and puréed sunchokes make a delicious centerpiece for an intimate table.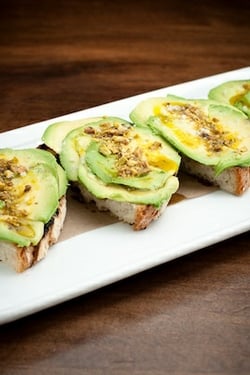 Avocado Bruschetta
Serves up to 8
½ baguette or crusty country loaf, sliced into ½-inch slices (about 16)
3 large ripe avocados, thinly sliced
½ cup toasted pistachios, shelled and chopped
Roasted pistachio nut oil to taste (Weland suggests J. Leblanc pistachio nut oil, available at Cork Market)
Sea salt to taste
Olive oil for brushing bread

Roast pistachios in oven at 250 degrees for 45 minutes to one hour.
Brush the slices of bread with olive oil, place on the grill, and heat until browned on either side. If a grill is unavailable, toast lightly under the oven broiler until golden. Remove toast.
With a spoon, scoop out thin layers of avocado and place on toast to cover each slice. Sprinkle with pistachios, drizzle with pistachio oil, and season with sea salt to taste.

Seared Maine Sea Scallops With Sunchokes and American Caviar
Serves 4
8 sunchokes (reserve 1½ cups for garnish)
2 tablespoons unsalted butter, plus 1 tablespoon butter for searing the scallops
1 teaspoon thinly sliced garlic
½ cup thinly sliced shallots
½ cup chicken stock
1 1/8 cups heavy cream
Sea salt and freshly ground white pepper
8 medium-size sea scallops
1 teaspoon grapeseed oil
1 sprig of thyme
½ ounce spoonbill caviar, available at Cork Market
8 sprigs of chervil
Pickled sunchokes for garnish (recipe below)

Make the sunchoke purée: Scrub the sunchokes and carefully peel off the outer skin. Slice them thinly and store in ice water.
Melt butter in a heavy-bottomed saucepan over medium heat. Add the garlic and shallots and sweat until softened (do not allow them to color), for about 10 minutes.
Drain sunchokes and add to the pan, cover with stock, and simmer until sunchokes are soft, about 20 minutes. Add the cream, return to a boil, and remove from heat. Season with salt and pepper.
Carefully ladle small quantities at a time into the blender and purée until smooth and velvety. Strain through a chinois (or a strainer if you do not have a chinois).

Cook the scallops: Heat the the grapeseed oil in a sauté pan over medium-high heat. Season scallops with salt and pepper as needed. Add to the pan and let them sear until golden brown, about a minute.
Flip the scallops, and add the butter. Once it melts, add the sprig of thyme and baste the scallops with the butter until golden brown, about a minute. Set aside on a plate lined with a paper towel.

Just before serving, warm the purée. Place three dollops down on a plate and top with seared scallops. Place a pickled sunchoke slice next to each scallop. Garnish with chervil and caviar.

Pickled Sunchokes
½ cup (120 ml) apple cider vinegar
½ cup (120 ml) water
2 tablespoons sugar
¼ teaspoon salt
1½ cups peeled sunchoke, thinly sliced
1 large carrot, angle-sliced, thinly
1 large stalk celery, sliced

Combine first 4 ingredients in a medium bowl and stir to combine flavors. Add vegetables, stir well, and cover with plastic wrap.
Store in the refrigerator to marinate for several hours or overnight. Makes about 4 cups (1 liter).