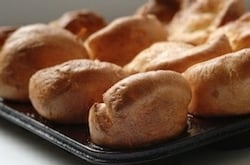 On Tuesday, we shared a couple of appetizers—one simple, one slightly more involved—from Cork Wine Bar chef Rob Weland. Today, we're moving on to the main course with two flavor-packed dishes from Adam Sobel at Bourbon Steak. His simple-to-execute spicy Thai beef salad is an excellent pick for kitchen newbies looking to impress a loved one this February 14. And the prime rib cap, while slightly more involved, is sure to wow your favorite beef aficionado. Be sure to read through the recipes before you begin, as some advance prep is required.
Spicy Thai Beef Salad
Serves 2
Steak and marinade:
2 0.6-pound choice skirt steaks
½ cup soy sauce
4 teaspoons honey
1 clove garlic, smashed
1-inch piece of ginger, peeled and grated
6 tablespoons grapeseed oil 1 lime, zested and juiced
Toasted cashews:
½ cup cashews
Lime Vinaigrette:
2 cups lime juice
1 cup fish sauce
1 cup honey
1 cup grapeseed oil
½ cup chopped cilantro
2 teaspoons red jalapeño
2 teaspoons chopped ginger
Salad:
1 head romaine lettuce, chopped
1 green papaya (available at Whole Foods), peeled and thinly sliced into long strips
1 cucumber, peeled and thinly sliced
1 jalapeño, thinly sliced
1 carrot, peeled and thinly sliced into long strips
1 red onion, thinly sliced into long strips
1 mango, peeled and thinly sliced
1 bunch cilantro leaves, picked
1 bunch mint, roughly chopped
1 bunch Thai basil or regular basil, picked and torn by hand
1 cup bean sprouts
1 bunch scallions, sliced
Marinate steaks: Place steaks in a bowl. In a separate bowl, mix together marinade ingredients and pour over the steaks. Cover, and marinate in the fridge for 3 hours.
When the meat has been marinating for one hour, make the dressing by mixing ingredients together in a bowl. Let sit for 2 hours.
Toast the cashews: Preheat the oven to 300 degrees. Spread cashews on a sheet tray and toast in the oven for 18 minutes or until golden brown. Remove cashews from oven and let cool.
Assemble salad: In a large mixing bowl, add all the ingredients except for the herbs, scallions, bean sprouts, and cashews.
Cook steaks: Remove steaks from fridge and pat dry. Lightly season with salt and pepper.
Heat large pan over high heat. Add 3 tablespoons oil and sauté steaks, turning every 3 minutes for 10 to 12 minutes, until medium rare. (A meat thermometer should read 125 degrees when inserted in the middle of the steak.) Remove steak from pan and let rest about 6 minutes.
Pass vinaigrette through a fine mesh strainer. Dress salad ingredients (except reserved herbs and cashews) and season with salt and pepper.
Slice steak, cutting across the grain.
Split salad between two bowls. Place steak slices on top of salad. Garnish with picked herbs, toasted cashews, and bean sprouts. Serve.
Grilled Prime Rib Cap with Stuffed Yorkshire Pudding
Serves 2
This is a mixture of classic prime rib accompaniments served with a crispy on the outside, soft on the inside Yorkshire pudding. Once baked, the puddings are split open and filled with a shallot confit, Brie, and grated horseradish.
Red Wine Butter:
1 bottle red wine
1 pound butter, room temperature
4 shallots, sliced
Yorkshire Pudding: (makes 8 to 12 puddings)
8 eggs
4 cups flour
1¼ cups skim milk
1¼ cups whole milk
1 tablespoon salt
2 cups beef fat or clarified butter (Whole Foods carries both), melted
Pudding filling (recipe for one pudding):
1 shallot
4 teaspoons Brie
2 teaspoons horseradish, grated (optional)
Steak:
1 1-pound steak, about 2 inches thick
2 to 4 tablespoons olive oil
2 tablespoons butter
1 garlic clove, crushed
2 sprigs thyme
Salt to taste
Make the red wine butter: Mix wine and shallots in a saucepan. Cook down gently over low heat until the mixture reduces to a syrup, about 30 minutes it should coat the back of a spoon). Let cool to room temperature, then whisk until it forms a butter. Place in a container and leave at room temp if using right away. If making in advance, refrigerate.
Prepare the puddings: Preheat the oven to 425 degrees. Meanwhile, in a large bowl, crack 8 eggs and whisk thoroughly. Sift flour over the egg mixture slowly, so that no lumps form. Once flour is incorporated, add milk and salt and whisk until a smooth batter is formed. Set aside.
Pour melted beef fat or clarified butter into the tins of a muffin pan or soufflé cups (2 to 4 ounces). Cook in a 425-degree oven for about 8 minutes. Remove, then carefully pour batter into muffin tins up to the halfway mark, and bake at 425 for 10 minutes. Reduce oven heat to 325 degrees and bake for an additional 10 minutes until golden brown. (Note: Once the puddings are baked, they can be held at room temperature and reheated as needed. To reheat, put in a 300-degree oven for approximately 5 minutes.)
Prepare the pudding filling: Preheat oven to 350 degrees. Roast as many shallots as you have puddings, leaving the skins on, until soft, about 30 minutes. Let cool. Peel shallots, sprinkle with salt, and drizzle with olive oil. Cut open puddings and carefully place a shallot in the center of each. Add as much Brie as desired and bake in the 350-degree oven until the cheese has melted, approximately 8 minutes. Sprinkle with grated horseradish, if using.
If red wine has been refrigerated, remove from fridge to return to room temperature.
Cook the steak:
Season the meat on both sides with salt and pepper. Heat olive oil in a large sauté pan on high until the oil starts to smoke a little. Place the steak carefully in the pan, then turn it every 3 minutes for about 15 to 18 minutes. Before the last turn, drop butter in the pan, along with the crushed garlic clove and thyme sprigs. Baste the steak with foaming butter.
When the steak is medium rare (the temperature of the meat thermometer should read 125 degrees), remove from pan. Rest the meat for about half the amount of the cooking time, about 7 to 9 minutes.
When steaks are ready, brush with red wine butter, plate alongside pudding, and serve.