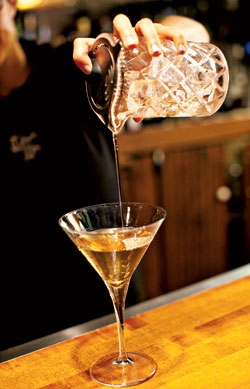 The first sherry cocktail that ever touched the lips of Adam Bernbach, bar manager at Proof and Estadio, was the work of another notable local barman: Derek Brown, who owns the Columbia Room and the Passenger cocktail bars in DC. "It was a variation on an Adonis"–a mix of dry sherry, sweet vermouth, and bitters–recalls Bernbach, and the drink made an impression.
Although José Andrés's Jaleo was the area's first sherry-cocktail destination, Bernbach is now Washington's foremost mixer of sherry-enhanced concoctions. He uses dry finos, aromatic amontillados, and dark, rich olorosos in place of base spirits and in supporting roles, sweetening or bittering up drinks as necessary.
Sherry, which begins life as a white-wine grape, hails from the southwest of Spain, in and around the city of Jerez. After vintners press and ferment the fruit, they fortify the wine and age it in barrels, often using the solera system, mixing old batches with new. For years, the Spanish shipped cheap stuff to the United States–that's how it earned its reputation as Grandma's super-sweet postprandial sipper.
Today, wine and liquor stores stock an array of sherries, making it easy to experiment at home. A good place to start is this cocktail–which pairs amontillado sherry with aged tequila and Drambuie–from Chantal Tseng at DC's Tabard Inn.
Tabard Cocktail
Serves 1
1½ ounces reposado tequila, such as Milagro
½ ounce amontillado sherry, such as Lustau Dry Amontillado Los Arcos
½ ounce Drambuie
1 dash Regans' Orange Bitters
1 slice orange peel
1 sprig fresh thyme
Fill a bar glass with ice and add the tequila, sherry, Drambuie, and orange bitters. Stir about 50 times, then strain into a chilled cocktail glass. Twist the orange peel over the drink to release its oils, then float the peel and rest the sprig of thyme on top.
This article appears in the February 2012 issue of The Washingtonian.