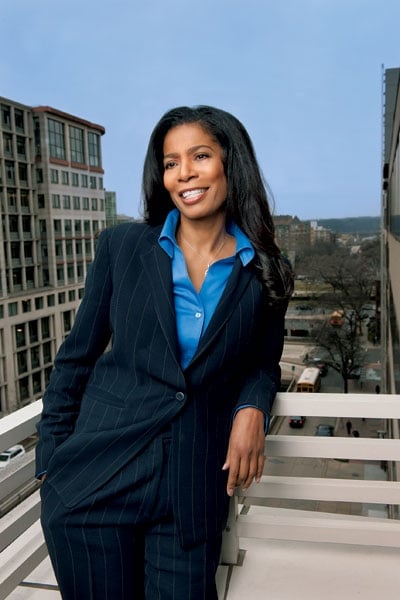 Judy Smith knows some of Washington's darkest secrets. When a politician, celebrity, or CEO is in trouble, she's often their first phone call.
Smith was in fifth grade at St. Francis de Sales in Northeast DC when she realized she had a knack for handling scandal. The school's "it" couple was about to break up over allegations of cheating. Smith acted as a mediator and convinced them to stay together. Decades later, she found herself dealing with a much higher-stakes love triangle as she helped Monica Lewinsky navigate the fallout from her affair with President Bill Clinton.
Smith's other clients have included former Idaho senator Larry Craig, the family of Chandra Levy, and quarterback Michael Vick. She develops crisis-management strategies to get clients beyond media or legal firestorms.
A lawyer by training–she went to American University's Washington College of Law–Smith was a prosecutor in the DC US Attorney's Office when then-mayor Marion Barry was arrested for possessing crack cocaine. She was tasked with handling the office's media response, giving her an early taste of crisis-communications work. From there, White House press secretary Marlin Fitzwater recruited her to work as his deputy in the George H.W. Bush administration. She's now president and CEO of the DC-based crisis-management and public-relations firm Smith and Company.
Smith's first book, Good Self, Bad Self: Transforming Your Worst Qualities Into Your Biggest Assets, will be published in April. In it, she applies the methods she uses for high-profile clients to problems regular people encounter.
A TV drama inspired by her career, Scandal, premieres April 5 on ABC. The series is produced by Shonda Rhimes–creator of Grey's Anatomy–and stars Kerry Washington as Olivia Pope, a fictional version of Smith.
Smith has spent a lot of time helping the actress prepare for the role. "She gets what I do," she says, "and not everybody does."
What's the key to a good apology?
You have to actually mean it. So many people apologize because they feel like they have to–that it's the appropriate thing to do, that it may help them down the road. But people can tell whether you're sincere.
The second rule is that it needs to speak to what the offense is. A lot of times, people give blanket apologies–"Oh, I'm sorry if I hurt your feelings." That could mean anything. Exactly what are we talking about?
What did you learn when you were in the DC US Attorney's Office?
One of the most high-profile cases was Marion Barry's. I learned that the mixture between politics, law, and race is an interesting one. I would get calls from Tokyo wanting to know when the videotape of Barry smoking crack would be released. It was amazing how many people paid attention to that situation. It really surprised me.
What's the best comeback from a crisis or scandal that you've seen?
Martha Stewart's was a good comeback. She is a strong woman, very determined. Prior to the crisis, people were like, "She's so mean." She had that bad rap. The crisis helped humanize her. She was very emotional outside the courthouse, and there were polls taken afterward that went sky-high.
The title of your book–Good Self, Bad Self–reflects your belief that a person's best and worst qualities are the same. Can you explain?
It's good to have a healthy ego, because that pushes you to succeed. But when you cross a line and your views are not balanced, that's when you get into trouble. The ambition and focus that propel you to success can also be your downfall.
Now that he's out of prison and has written a book, disgraced ex-lobbyist Jack Abramoff has been on a comeback tour. Do you think he has managed it well?
I think he is trying to turn a huge negative into a positive–and of course trying to pay down on the restitution. He'll meet a lot of resistance. The key here is he has to walk the walk. People will focus not on his words but his actions. Consistency is the key.
Once news broke that John Edwards had been having an affair with Rielle Hunter, what should he have done?
When you don't know all the details, it's hard to say. But I will say this: When the facts are presented to you, you have to own it and you have to be honest about it and you have to come forward. What made his situation so much more complicated and gave it sort of that "ick" factor is that his wife was dying of cancer.
Would you have taken Edwards as a client?
No. A man who cheats on his wife while she is dying of cancer needs more than crisis management. He needs to reexamine his value system.
Why do so many political wives stand by their husbands when they've been cheated on or otherwise publicly embarrassed?
That started changing with the wife of former South Carolina governor Mark Sanford. But sometimes the wife may be just as invested in the political career as the husband. And I'm sure, like any woman, they weigh all those other issues–kids, family, work.
Have you ever advised the spouse of someone who has gotten in trouble?
Yes. When one spouse has gone astray, the first consideration should be what the couple wants to do. My advice is never "stay" or "get a divorce." They have to decide that for themselves. What I do know is that if you try to present a false image to the public, they will know. If it's not genuine, people will see through it. So there's no need to pretend.
One crisis Mitt Romney has dealt with during the campaign is releasing his tax returns. What would you have advised him to do?
To release them earlier. Timing may be everything, but the fact that he is wealthy is not going to change. One of the principles in my book is owning whatever it is and not running from it.
What about when Rick Perry attempted to list the three federal agencies he would eliminate and then blanked on the third?
What he tried to do was use humor to deflect the fact that he forgot. I don't think joking about it was helpful. Consolidating or cutting agencies is something people take very seriously. The fact is if you forgot, you forgot. It happens.
During the 2008 campaign, Barack Obama faced a crisis when dealing with inflammatory remarks made by his former pastor, Reverend Jeremiah Wright. How well did he handle it?
I think the campaign was behind the curve on that issue. They failed to accurately assess the landscape and anticipate the blowback. With the first airing of the remarks by Reverend Wright, the President denounced the statements but not the person–and sometimes in a crisis you can't split the baby.
How did the TV show Scandal come about?
I was writing the book and my agent said, "I want to introduce you to some folks who work in some different areas." So I got introduced to screenwriter and producer Shonda Rhimes and a few others. I think we had a meeting scheduled for 15 or 20 minutes. Well, 2½ hours later, we were just talking and talking and talking.
What have you learned about human nature?
I like to believe in the good in people. But we're all going to screw up from time to time. It just happens. It really is how our best growth occurs. A lot of times, the flip side of a crisis can be an opportunity.
This article appears in the March 2012 issue of The Washingtonian.