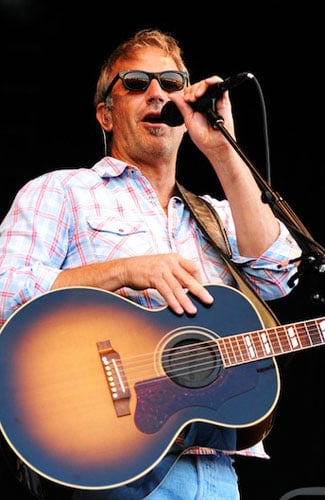 For six years, Kevin Costner has been quietly working on a side project. The 57-year-old star of Field of Dreams, Dances With Wolves, and The Bodyguard sings and plays guitar in the band Modern West, whose sound is reminiscent of Bruce Springsteen, Tom Petty, and John Mellencamp. The group, which has recorded three albums, plays April 3 and 4 at the Rams Head in Annapolis and April 5 at Strathmore. Here's a conversation with Costner.
How did Modern West come about?
I started it around the time I was getting ready to do The Guardian in Louisiana. The guys in Modern West, John Coinman and Blair Forward, were in my first band, Roving Boy. I didn't know where the new one was going, but I pulled them back in and said, "Let's start doing our own material."
How did you meet John?
I was 26 or 27, and a bunch of us decided to put our own acting workshop together, where we didn't have to pay anybody to teach us. We did it in an old warehouse, built a little stage, and had 20 or 30 people who got to act every week.
How do your musical styles work together?
My family's out of the Oklahoma Dust Bowl; John's is out of Clayton, New Mexico. From a rural standpoint, our stories are similar. A lot of our songs are rooted in how we grew up–about playing hardball or riding your bicycle or about love or the lack of it.
How would you describe Modern West's sound?
We're working on a concept album for a miniseries I did, Hatfields & McCoys, so some things we're doing for that have a roots ring. Sometimes we write a hard-rock song; sometimes we have more of a country flavor. We're not playing standards–we're playing original compositions. It's difficult for established artists to feel like they can experiment a lot of the time, so you have to be strong and resist the temptation to shrink rather than expand.
Do you have a favorite track?
It moves around. I'm enjoying "The Hero" and "Cleo at the Wheel" right now. "The Angels Came Down" is going to be played at a memorial for Navy SEALs, so that's a real honor. The song is not political, but it seems to have tremendous meaning to anyone who's lost a son or daughter.
What's touring like?
This band writes constantly, so our material is always changing. The band thinks I'm crazy when I put in new songs we haven't rehearsed much, but I just say one live performance is worth 20 rehearsals. There's a level of work to it, but there's also great joy in being with your friends.
Tickets ($35 to $90) at ramsheadtavern.com and strathmore.org.
This article appears in the April 2012 issue of The Washingtonian.