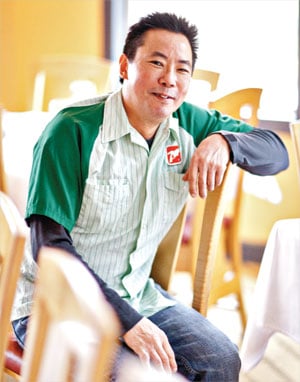 You might not know Ron Tanaka's name–he tends to stay out of the spotlight–but he has cooked at such high-profile restaurants as Palena and CityZen. After almost four years at Cork, he now mans the stoves at New Heights. He took a break from testing a pickled-boar recipe to tell us about his favorite drinks, dream trip, and takeout of choice.
Always on the bar: Nolet's gin.
Special-occasion drink: White burgundy from Etienne Sauzet.
Post-work bar: Bar Pilar on DC's 14th Street.
Liquor store: Barrel House Liquors in DC's Logan Circle.
Energy source: Vitamin Water Focus.
Breakfast: Steak and eggs.
Lunch spot: Chix, near DC's U Street. "It's very serene."
Lazy carryout spot: Thaiphoon in Dupont Circle.
Sandwich: Corned beef on rye from Deli City in Northeast DC.
Healthy snack: Banana.
Unhealthy snack: Rye with a couple of ice cubes.
Chocolate: Valrhona white chocolate. "All the pastry people are going to go, 'That's not chocolate–what a wimp!' "
Grocery-store cookie: Pepperidge Farm Brussels.
Farmers market: 14th and U Market, Northwest DC.
Dessert: "My mom's strawberry shortcake."
Ice-cream flavor: Pistachio or peach.
Kitchen aroma: Basil or a braise with star anise.
Always in the home fridge: "Something that should have been thrown out weeks ago."
Always in the pantry: "Dust and paper plates."
Condiments: Sriracha sauce and fermented bean paste.
Cut of meat: Veal shank.
Fish: Sablefish.
Vegetable: Asparagus fresh from the garden.
Knife: Ten-inch Kikuichi slicer.
Appliance: Robot Coupe blender.
Cookbooks: The Flavor Bible by Karen Page and Andrew Dorenburg and French Provincial Cooking by Elizabeth David.
Mentors: Eric Ziebold, Michel Richard, Frank Ruta, and Susan McCreight Lindeborg.
Most influential chefs: Auguste Escoffier, Madeleine Kamman, Fredy Girardet, and Fernand Point.
Dream trip: Antarctica.
Food city: San Francisco.
Cooking clothes: Shorts and a bowling shirt.
Kitchen shoes: Mephisto clogs.
Cooking music: "Sports talk radio for a bit, then we'll put on Pandora shuffle and have Johnny Cash next to Max Romeo."
This article appears in the April 2012 issue of The Washingtonian.