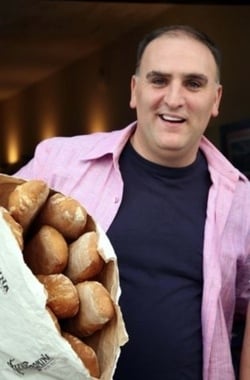 On the eve of tomorrow night's White House Correspondents' Dinner, Politico's Mike Allen hosted a special celebrity edition of the Playbook Breakfast series this morning at the Newseum, welcoming Green Bay Packers cornerback and noted do-gooder Charles Woodson and recent Time 100 honoree José Andrés to the forum. Woodson was up first, discussing, among other things, life in Green Bay, his winery, and his various charity projects. Before Woodson ceded the stage to Andrés, Allen invited the two men to ask each other a question.
Woodson asked Andrés: "How can me and you collaborate?"
Andrés's response: Help me make stadium food healthier. "When you go to watch a baseball game, when you go to watch an NBA game, when you watch an NFL game, when you go to watch movies, the offering that those arenas are doing foodwise is 'all the hot dogs you can eat'; all the French fries you can eat; for $20 you can eat 20 hot dogs. You guys are, for us, the gods of Olympus . . . You send so many good messages of working hard, of reaching for the stars, of healthy lifestyles. . . . To me it is completely out of sync that when you go to watch your favorite players perform at their best, in the process of watching them reach for greatness, we are making America fat. It doesn't make sense. . . . What would you do to change that? Young kids are looking to you for inspiration, but then the NFL, the NBA, the stadiums are these money-making machines of fat and fries."
Woodson's response was circumspect: "I'm a player, and I'm not the decision maker, so it would be hard for me to stop the machine from making money. So I don't know what I can do about it. I'll have to think."
Andrés went on to discuss hot Washington neighborhoods–he says he'd like to see Adams Morgan become the epicenter of DC life; how to get a reservation at Minibar ("persistence"); foie gras ("I'm sorry for the ducks, I love foie gras"); and his projects in Haiti, where he and his wife have developed a bakery and a canteen to help impoverished communities.