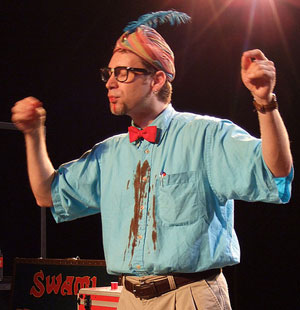 Monday, May 7
Sideshow takes a trip to the Kennedy Center as part of the Look Both Ways street art festival. Four performers will do Renaissance Festival-esque stunts, including plate-spinning and dangerous juggling–you'll also get a magic show and musical distractions. Free. 6 PM.
Tuesday, May 8
Canada hasn't brought us too much great television, but Trailer Park Boys is an exception. Since the mockumentary series ended in 2007, they've released two movies and have hit stages across the country to perform live. Ricky, Julian, and Bubbles will be at Lisner Auditorium performing a puppet show about the dangers of drugs and alcohol . . . sounds educational. $32.50-$39.50. 7:30 PM.
Wednesday, May 9
In 1999, John Irving won an Oscar for his adaptation of The Cider House Rules. He's also won a National Book Award for The World According to Garp–he's back with his 13th and latest novel, In One Person, the life story of a bisexual man. Irving will be talking about the book and his earlier work at Sixth and I Historic Synagogue. $15. 7 PM.
Thursday, May 10
You loved arts and crafts as a kid–but unless you practice pasting popsicle sticks together, you'll never get better. The American Art Museum is hosting a grown up version–Handi-hour features craft beer tasting and arts-and-crafts workshops. $20. 5:30 PM.