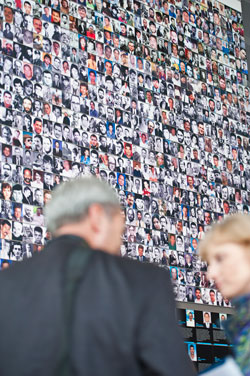 At the Journalists Memorial, one of the Newseum's most
moving exhibits on the third floor, the names of 2,176 reporters can
be read on panes of frosted glass that stretch from floor to
ceiling. Each name represents a journalist who's died or been
killed in pursuit of the news since 1837. On Monday morning, in
a solemn ceremony attended by family, friends, and fellow
journalists, 70 more names were added to the memorial.
The keynote speaker for the occasion was
Alejandro Junco, founder of
Reforma, one of the most widely read newspapers in
Mexico City, where journalists are frequent targets. "We are here today
to honor
those who have paid the highest price any person can ever pay
for pursuing the truth," said Junco, who noted that in 2012
so far, 18 journalists have been killed and nearly 200 have
been imprisoned.
Perhaps the most affecting aspect of the hour-long service was the reading of the names of those lost in 2011 by
Chris Wells, former senior vice president of
the Freedom Foundation. As Wells spoke, a chime pealed through Knight
Studio. Many of the
journalists commemorated came not from the US but from Middle
Eastern, African, and Latin American countries, where seeking
and telling the truth can be dangerous endeavors.
The event also honored two well-known journalists in this country:
Chris Hondros and
Tim Hetherington,
who were both killed while
reporting in Libya last year. Hondros was a Pulitzer
Prize-winning photographer for Getty Images; Hetherington was a
contributing
editor to
Vanity Fair and a filmmaker who received an Academy Award nomination for his documentary shot in Afghanistan's Korengal Valley,
Restrepo. Some personal effects from both
men–including letters, glasses, and a book by Jean-Paul Sartre–have
been donated to the
Newseum. Close friends spoke of the passion Hondros and
Hetherington had for their work, and helped underscore the heroic
aspect of journalism emphasized by Junco.
"The reporter, my friends, is actually a super man," Junco said. "Letting people see is letting people know. Letting people
know is letting people do, and the power of doing means freedom."
For more information about the Journalists Memorial, visit the Newseum's website.