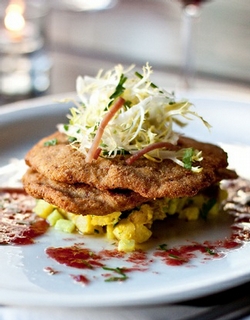 Yamas Mediterranean Grill
We knew something was off when we stepped into this Greek cafe–where were the aromas of garlic and herbs? The bold flavors that once drew us to Yamas appear to have flattened: Roast potatoes tasted of the steam table, a whole fish with herbs and lemon was overcooked, and a rotisserie chicken could have come from the supermarket. Only spanakopita and taramasalata had zip.
Lyon Hall
Mussels are popular at this brasserie, but there are also rewards in less obvious items such as escargots in garlic-butter; cornmeal-crusted flounder; and a riff on currywurst featuring a juicy brat, pickled cauliflower, and curry aïoli. House-made breads are gratis–but don't let that dissuade you from starting with salt-studded soft pretzels accompanied by a trio of mustards.
The Bombay Club
This handsome dining room has been overshadowed by its more modern sibling Rasika. But on a recent Friday, the place bubbled over with happy families and well-dressed thirtysomethings sipping martinis. Too-formal service stifled the sense of fun, but tandoori salmon was tender, the lamb shank in the nalli gosht was fragrant with cinnamon, and pillowy naan and onion kulcha were perfect for soaking up all that sauce.
This article appears in the May 2012 issue of The Washingtonian.