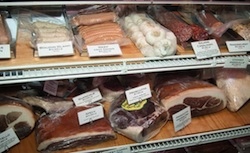 Get your Memorial Day barbecue fix early with lunch at the LivingSocial event space, courtesy of a pop-up by Del Ray's Pork Barrel BBQ. Typically the venue only hosts temporary dinners with preordered vouchers, but you can pop in unannounced for this counter-service lunch–dine in or take it to go– that includes a pulled barbecue pork sandwich, sides like slaw or potato salad, and a drink (be warned, they only take cards for the $13 meal).
Today is the start of Beast at Society Fair, a monthly Monday happening that involves butchery lessons, meaty bites, and wine. Today chef Julien Shapiro demonstrates how to carve heritage Randall Lineback beef while you sip vino and snack on seasonal porky appetizers. Tickets for the 90-minute class ($45 per person) are available by calling 202-556-2044.
Wildfire hosts a pork and Pinot Noir dinner on Wednesday at 6:30. The owners of Virginia's Bay Haven Farm will be on hand to answer questions about their produce, and the menu includes bacon-wrapped asparagus, a spit-roasted pig with mojo-citrus marinade, and a caramel sundae with candied bacon. The event is $80 and includes a reception and wine pairings. Call 703-442-9110 for reservations.
Dust your cowboy boots off for a Memorial Day-themed picnic supper at Hill Country on Sunday. The all-you-can-eat buffet will be stocked with dishes like pit-smoked beef hot dogs, burgers, potato salad, slaw, and Blue Bell ice cream sandwiches. To catch some live music, plan to hit the eatery around 6 to 7:30 PM, when the Greater Mount Calvary Holy Church Choir is performing, or around 8 for a performance by blues singer Eli Cook. Tickets ($20 per person; $10 kids ten and under) can be purchased by calling 202-556-2044.
On the other end of the spectrum, toast the nation at J&G Steakhouse on Sunday with a Champagne dinner featuring vintages from Duval-Leroy ($115 per person). The four-course dinner begins with a reception at 6, followed by a sit-down meal with dishes such as baked oysters and roast chicken with asparagus and Parmesan jus, all paired with bubbly. Tickets are available online.
If your Monday day off involves strolling along 14th Street, drop into Cork Market from noon to 4 for grilled local sausages from Simply Sausage. The selection includes lamb merguez, garlic kielbasa, and French country sausage, all of which go for $9. While you're at it, grab a bottle of wine and some cold fried chicken, and you're all set for a Memorial Day picnic.