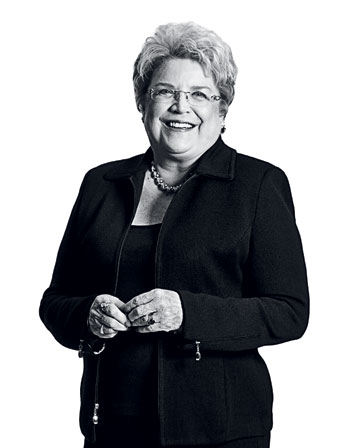 As the space shuttle Discovery took its farewell ride
over Washington on the back of a Boeing jet in April, Linda Hudson watched
from a VIP viewing area at the National Air and Space Museum's Udvar-Hazy
Center near Dulles. The shuttle now rests at the museum—where Hudson is a
board member—a relic of the bygone era of manned space flight.
Hudson, president and CEO of the defense contractor BAE Systems
Inc., grew up an hour from Cape Canaveral in central Florida. She lived so
close to the NASA launch complex that on a clear day she could see the
rockets take off. By the time she was 16, she was taking flight lessons
and dreaming of becoming a pilot or an astronaut.
Seeing the shuttle make its final lap was a bittersweet moment
for Hudson, now 61. But a lot of things are coming to an end these
days.
Not a month before Discovery's retirement, another
vehicle significant to Hudson had its swan song: The last US military
Mine-Resistant Ambush-Protected Vehicle in Iraq was sent to a museum in
Fort Hood, Texas.
The combat vehicles, called MRAPs, became icons of the wars in
Iraq and Afghanistan. Troops traveling in outdated trucks and Humvees were
vulnerable to improvised explosive devices (IEDs). In 2007, the Army
finally ordered the MRAP, designed specifically to withstand
IEDs.
BAE produced three of the five MRAP models used in the wars.
That program, coupled with another popular BAE product, the Bradley
Fighting Vehicle, propelled earnings in BAE's land-and-armaments
sector—the part of the company that manufactures combat vehicles and
weapons systems—from $4 billion to nearly $12 billion between 2007 and
2010.
Those products also boosted BAE's presence in the United
States. BAE Systems Inc.—headquartered in Arlington with more than 40,000
employees nationally and 6,500 in the Washington area—is the US subsidiary
of the United Kingdom's BAE Systems. Within the company, the US half is
known simply as "Inc." Because it's foreign-based, BAE is less well known
in the American market than such competitors as Lockheed Martin and
General Dynamics, two of the region's largest employers. But it's one of
the ten largest defense contractors in the US, typically hovering around
number six. Its UK-based parent is the second-biggest defense company in
the world, reporting $30.7 billion in revenue last year, about $16 billion
behind Lockheed, the largest.
London headquarters or not, by the peak of the wars more than
half of BAE's earnings were generated by its American subsidiary. Today,
Inc.'s business accounts for about half of total BAE revenue.
Though BAE's combat-vehicle business remains the world's
largest, the spending boom is over. With the end of the Iraq War and with
the war in Afghanistan winding down, revenue in the land-and-armaments
sector has slid back to $6 billion. BAE Inc.'s overall revenues in 2011
were $14.4 billion, compared with $17.9 billion in 2010 and $19.4 billion
in 2009.
The future of the entire defense industry is uncertain. In
January, Defense Secretary Leon Panetta announced $487 billion in
defense-budget cuts over the next decade, and there could be $500 billion
of additional cuts if so-called sequestration kicks in. That will be
triggered if Congress can't agree on a plan to reduce the federal deficit
by next January—and these days it doesn't seem as if Congress can
compromise on anything.
This changing environment puts Hudson at the helm of a
contractor—and an industry—at a crossroads. On a spring afternoon, she
sits in a conference room adjoining her 21st-floor office in Rosslyn,
overlooking the Pentagon and the Potomac River. She has close-cropped
blond hair, a pink manicure, and sparkly baubles on her fingers. She's
surprisingly petite, yet her presence is commanding.
On the wall behind her is one of several artworks, which she
commissioned, made of recycled combat-vehicle parts. Those vehicles, after
all, have been Hudson's biggest focus for the last several years. But as
major weapons and vehicles programs become less affordable for the
Department of Defense, Hudson is working to diversify BAE's offerings
further to ride out the downturn.
This isn't the first time she has found herself in a tight
spot. In fact, she has challenged the odds throughout her
career.
"Not all executives are really good at
making decisions,
but she's very good."
Before joining BAE in 2007 to lead the land-and-armaments
division, Hudson was head of General Dynamics'
armament-and-technical-products division. When she took over that
business, it was floundering. Hudson's mandate from then-company executive
vice president Gordon England was either to improve division performance
enough to make it attractive to a buyer or to figure out a way to make it
a profitable piece of General Dynamics.
Hudson didn't want to sell off the division. She overhauled its
business model, laid off a third of its employees, and shut down its
internal factory, outsourcing all manufacturing instead. Under her watch,
the division quadrupled its revenues and became a driver of General
Dynamics' growth.
"She was financially very astute," says England, now president
of the consulting firm E6 Partners. "Not all executives are really good at
making decisions, but she's very good."
Her performance caught the attention of BAE, which recruited
her in January 2007, a key moment, as it would turn out, for the
contractor and the Pentagon.
The same month, President George W. Bush announced the Iraq War
surge, in which 30,000 additional troops would be deployed to the country
by the following summer. Annual war casualties had consistently hovered
around 900; the American public's support was waning. The Department of
Defense needed to curb the death toll—meaning the moment was ripe for a
company that made combat machines.
"It's easy to forget how close we were in Iraq to pulling the
plug on the whole thing," says Michael O'Hanlon, a senior fellow at the
Brookings Institution focusing on national-security and defense policy.
"The MRAP helped make the wars politically viable."
When Hudson took over as president of land and armaments, BAE's
MRAP was in its infancy. Hudson pushed full steam ahead—even though the
Defense Department had yet to actually place an order for the new
vehicles. The company invested nearly $100 million of its own money before
the Pentagon put in an order.
"We made a decision that we were going to do everything we
could to get systems available to the warfighter as quickly as possible
and to move out on our own money in advance of when the customer was
ready," Hudson says.
During the same period, BAE Systems Inc. acquired Armor
Holdings, a maker of tactical military vehicles and vehicle armor, for
$4.5 billion. That company was folded into Hudson's land-and-armaments
group, and it, too, had a design for an MRAP.
The investment paid off many times over. Because of the advance
work Hudson's group had done, once the Defense Department put out the
call, BAE delivered the first vehicles within 43 days—an effort that
significantly raised the company's profile in Washington power
corridors.
BAE became one of the Army's largest suppliers of armored
vehicles, building and upgrading 9,686 MRAPs. The contracts brought in
more than $5.3 billion for the company.
Though she doesn't come from a military family, Hudson
developed a love of fighter jets in elementary school. She says she can't
really explain it—she simply liked fast airplanes. Her aptitude for
numbers garnered special attention from her junior-high math teacher, who
first told her about engineering. By the end of high school, when Hudson
realized that becoming a pilot or astronaut was a nearly impossible goal
for a woman in the 1960s, she had set her sights on
engineering.
"I decided if I couldn't fly airplanes, if I couldn't
participate in the space program, I could design those things," she
says.
Hudson was one of two women in the engineering program at the
University of Florida. By the time she graduated in 1972, her exceptional
grades had earned her several job offers. She went with the highest
bidder, Harris Corporation, where she designed B-1 bombers and classified
satellite programs.
Asked to describe the professional environment for women in
those days, she answers succinctly: "Very ugly." She recalls sitting in
meetings and feeling invisible."You went into every situation with people
assuming you didn't deserve to be there."
When Hudson and her then-husband applied for a mortgage, they
were turned down. Hudson made more than he did, but the lender refused to
count her salary because he assumed she'd get pregnant and quit her job.
Today, Hudson owns three homes—one in Arlington; one in North Carolina,
where she plans to retire; and a historic island house an hour outside of
Gainesville.
The lender was right about one thing—Hudson did become a mom.
She has one daughter, but she never gave up work: "I always had full-time
help. I don't know how I would've done it if I hadn't." And though she's
now divorced, her husband of 25 years worked for himself, which made him
the parent with the more flexible schedule.
Hudson is as candid about her struggles as a parent as she is
about her professional successes. "I'm trying to be a better grandmother
than I was a mother," she says. "My daughter will tell you I didn't always
do it really well."
As adults, the two have grown closer. Hudson shares her passion
for travel with her daughter and three grandchildren. They're taking an
Alaskan cruise this summer, followed by a ranch vacation in
Montana.
Hudson has come a long way, but she credits those early
experiences as a woman in a male-dominated field with making her more
determined: "I learned that if I was better than anyone else in the job
that I did, people would have to pay attention to me."
Now that she's head of Inc., a role she assumed in October
2009, more than 40,000 employees pay close attention to her every
move.
when she became CEO, Hudson began a drastic restructuring of
the business. "We saw the downturn in defense spending coming," she says.
"So we made the decision some time ago that we had to reposition ourselves
before the cuts hit."
She started by stripping out an entire layer of senior managers
between her and the lower-level heads of the various parts of BAE's
business.
John Gannon, president of BAE's intelligence-and-security
sector, says the extra layer of management blunted communication: "I call
Linda and she will respond. I never had anything approaching that kind of
contact with her predecessor."
BAE's British parent company had built up the American side of
the business through acquisitions, and those formerly separate companies
had never been truly integrated. As a result, Inc. had 40-some payroll
systems and dozens of benefit plans. "Imagine the cost of running all
these different systems," Hudson says.
She integrated Inc.'s payroll and benefits and set up a single
facility in Charlotte to handle all human-resources and finance functions,
all part of creating more than $100 million in savings.
"I call Linda and she will respond. I never had anything approaching that kind of contact with her predecessor."
But it will take more than that to stay competitive. Hudson
knows firsthand that the competition for vehicle contracts has gotten
stiffer. In 2010, BAE lost a contract it had held for 17 years to build
military-transport trucks when a smaller company, Oshkosh Defense,
significantly underbid BAE. Hudson says that to beat Oshkosh's price, BAE
would have lost money making the trucks. Oshkosh also beat out BAE for a
$3-billion-plus contract to make a lighter, off-road version of the
MRAP.
As her land-and-armaments business declines, Hudson is focusing
resources elsewhere. In keeping with the trend across the industry, an
increasing amount of BAE's business comes from providing services to
customers in addition to building new products for them.
For instance, to give BAE the facilities to service and repair
ships at the Navy's main home ports, Hudson bought Atlantic Marine in
2010. The services side of Inc. now accounts for 32 percent of revenue, up
from 22 percent when Hudson became CEO in 2009.
She's working to expand BAE's electronics offerings, too. Since
2010, Hudson has bought Fairchild Imaging and Oasys Technology, firms that
specialize in night-vision products, thermal-imaging systems, and other
electronic gear used in defense and aerospace. As the military balks at
buying new vehicles, the idea is to offer a cheaper alternative: services
and smaller-scale products that can enhance or expand the lives of their
existing vehicles.
Hudson is also focused on strengthening BAE's relationships
within the intelligence community. As areas such as cybersecurity continue
to grow, she has been meeting with top-level officials including the heads
of the National Security Agency and the Office of the Director of National
Intelligence.
Gannon, head of BAE's intelligence-and-security business, has
been making the introductions. The former deputy director for intelligence
at the CIA has valuable connections in that world, but he's set to retire
from BAE this summer, making it even more urgent for Hudson to build her
own inroads.
Loren Thompson, a defense-industry consultant at the Lexington
Institute who counts BAE and some of its biggest competitors as clients,
says Hudson has positioned the company favorably: "What's striking about
BAE is how it is no longer just about military hardware. That change
happened most decisively under Linda."
That's not to say BAE doesn't want to build big trucks anymore.
It's currently competing for two major contracts.
The first, the Joint Light Tactical Vehicle (JLTV), is intended
to replace the iconic Humvee. The contract could be worth more than $15
billion.
The second, the Ground Combat Vehicle, will replace BAE's
Bradley fighter in the next 20 years or so. The Army plans to buy 1,800
GCVs, yielding as much as $30 billion. It's also possible the Army will
seek a cheaper alternative, such as an upgrade to the old
Bradleys.
The contract could reshape the defense industry, particularly
for the two biggest armored-vehicle builders—BAE and General Dynamics.
"The question is if BAE or General Dynamics doesn't win the next tank
contract, do they stay in the tank business?" says Eric Lindsey, a defense
analyst at the Center for Strategic and Budgetary Assessments.
Hudson says she feels good about BAE's odds in both
competitions. Despite its more diverse mix of businesses, BAE is, at its
core, a builder of trucks and tanks.
But as Hudson witnessed just a few weeks ago as the shuttle
circled overhead, nothing lasts forever. As a little girl, she says, those
rockets she could see from her house captured her heart and mind, starting
her on the path that led to this perch 20 floors above the Potomac. That's
all over now.
"It is what it is," she says with a shrug.
This article appears in the June 2012 issue of The Washingtonian.