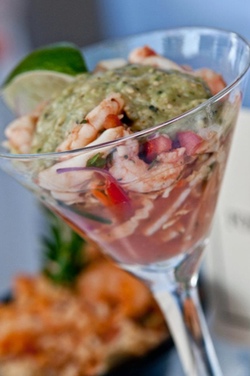 Friday
The ten-day DC Jazz Festival starts today, with a bunch of star acts performing at a variety of venues throughout the city. Combine a love of music and food at spots like the Hamilton, where you can catch Les Nubians and dinner at the same time, or Bohemian Caverns, where a meal is accompanied by the tunes of Ron Carter. Check out the main event page for the full lineup.
Saturday
The 19th annual Taste of Georgetown takes over a stretch of Wisconsin Avenue from 11 AM to 4 PM, meaning you'll want to join the festivities or avoid G-town traffic altogether. We're feeling the former, considering there will be more than 25 eateries—including Sprinkles, Clyde's, and Nelya—offering bites, and a tasting pavilion for craft brews and wine. The event is also good for (crowd-tolerant) families with live music, a photo booth, face painting, and balloon sculpting. Purchase tasting tickets online beforehand ($5 for one; $20 for five), with proceeds benefiting the Georgetown Ministry Center's services supporting the homeless.
A little farther up Wisconsin Avenue, the sports bar Public Tenley—an offshoot of the Dupont location—is celebrating its one-year anniversary with a shindig from 1 to 6 PM in an adjoining outdoor lot. Go for the sunshine, and stay for $1 brews like Peroni, Blue Moon, and Miller Lite; a barbecue with $2 meat and veggie sliders; $1 slices, 25-cent wings; and sixties tunes from the cover band Luisa and the Reverbs. There's also a zumba class led by neighboring Tenley Sport & Health at 4:30 PM, which should be pretty entertaining if the dollar-brew crowd joins in.
If indoor fun is more your speed, consider joining a Mexican cooking class at Ceiba with chef Matt Britt from 11 AM to 1 PM. The demonstration spans a variety of meals and courses with dishes such as huevos rancheros, chicken tortilla soup, and shrimp enchiladas, all of which and more you'll get to nosh on at an accompanying lunch with wine pairings ($85, all-inclusive). Make reservations by phone at 202-408-0201 or e-mail.
Sunday
The big-ticket event this weekend is a James Beard benefit dinner, Sunday Supper, at the soon-to-open Union Market. There's a double draw: cocktails and a family-style meal from big-name talents such as Derek Brown, Gina Chersevani, Bryan Voltaggio, Cathal Armstrong, Fabio Trabocchi, and many more, plus the chance to check out Washington's most-buzzed-about culinary project. It all starts at 6 PM, and tickets ($240 general admission) are available online.
Wind down the weekend with something a little more low-key at the Taste of Del Ray. From 1 to 3 PM, sample from stalls manned by neighborhood restaurants like Cheesetique, Evening Star Café, and Pork Barrel BBQ, and vote for your favorite alongside celebrity judge Rock Harper, the Season 3 winner of Hell's Kitchen. Tickets ($10 adults; $5 kids under 12) can be purchased in advance at the Del Ray farmers market or at the event.