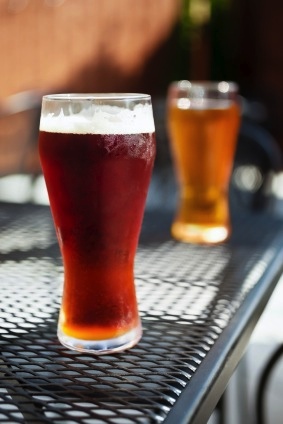 If you've ever lived through a Washington summer, you know this weather is as freakish as it is beautiful. The only thing we want to do: get outside before the temperature spikes and the air becomes chewable. Check out our previous roundup of great outdoor drinking spots from when the weather got all weird in February, then get busy planning your week. There are plenty of new outdoor spots for you to scout.
Monday, June 4
Debut Movie Night at DC Reynolds
If you're a fan of the "cat game," get to this Petworth eatery right meow for the first in a series of Monday night movie screenings on the roomy outdoor patio. First up is Super Troopers at 8:30 PM, which you can watch while chugging beer (or syrup) and chowing on pub fare like an open-faced pulled-pork sandwich or bacon cheeseburger. Happy hour is from 5 to 9 PM, so get there early for buy-one-get-one-free drinks.
Tuesday, June 5
A Taste of Paris at Bistro Vivant
Assaggi owner Domenico Cornacchia and restaurateur Aykan Demiroglu quietly opened their McLean bistro a few weeks ago, and there are more than 20 patio seats for sipping a carafe of wine and nibbling goat cheese croquettes or pâté de Campagne. Fans of Evo Bistro may feel familiar with the cooking, as the restaurant's former chef, Driss Zahidi, has replaced chef Christopher Carey, who originally signed on to the project.
Wednesday, June 6
Expanded Happy Hour Perches at 1905
The newest roof deck addition to the DC bar scene is at this friendly U Street/Shaw bistro, where you can sip a cold one and gaze out on the Washington Monument in the distance. Head there for $4 bottled beers and rail drinks or $3 PBR tallboys between 5:30 and 7:30 (and if you get hungry, there are half-price burgers in the dining room downstairs). Groups are in luck: New stools are scheduled to arrive by today, expanding the seating from 8 to about 25 (there's plenty of standing room in addition). Look for al fresco weekend brunch and eventually Sunday dinner.
Thursday, June 7
Tryst and Phillips After 5
Adams Morgans coffeeshop Tryst just opened a cafe at the Phillips Collection with a spacious outdoor patio. Though basking in the sun with a glass of Prosecco—or with a cappuccino, your laptop, and free wi-fi—is a sure plan, best to check it out this week during the monthly Phillips After 5 event from 5 to 8 PM. Festivities include live jazz, art-themed Simpsons episodes, and a gallery talk on painter Jasper Johns, during which you can break for air on Tryst's patio with wine, light bites, and a special cherry-sassafras Old Fashioned (the $12 event reservations are separate from items purchased at Tryst).
Friday, June 8
Pregame at Masa 14
Masa 14's roof deck opened last month after years in the making, and the same hopping bar scene fueled by tequila and Latin-Asian small plates has migrated upstairs. Check out the $4 rooftop happy hour from 5 to 7 for mojitos and crunchy shrimp handrolls, or grab dinner before a night out.
Saturday, June 9
Hit the Sand at New York Ave Beach Bar
The margaritas are frozen, the beach balls are bouncing, and the sand is imported from Ocean City. There's a lot to love about this outdoor lot/urban beach near the Convention Center that opened over Memorial Day weekend, especially for the day-drinking crowd. Grab your sunblock and head there hungry, as Sundevich's first truck is on property doling out tasty sandwiches to pad the stomach.
Sunday, June 10
Tiki Bar Bash at Black's Bar & Kitchen
A new outdoor bar at Black's Bar & Kitchen debuts today with tiki drinks like mai tais and a machine churning out Orange Crushes. You can drop in for a quick drink next week, or head to the opening festivities that include an outdoor barbecue with a whole suckling pig and pork sliders, brunch dishes like pineapple-glazed French toast, cocktails, and a live taping of Nycci and David Nellis' radio show, Foodie & the Beast (call 301-652-5525 for tickets, which are $50 per person).