The Summer Fancy Food Show is huge, y'all. We know, because we spent most of yesterday afternoon wandering through aisle after aisle of olive oils and chocolate truffles and grow-your-own mushroom kits and savory jams and canned tomato sauces and gluten-free muffin mixes and . . . you get the picture.
So for a company to stand out among the 2,000-odd vendor stations at the massive convention, it has to do more than spear a few samples with toothpicks and hire a booth babe or two to entice roving retailers. Sometimes, it has to go big, or—in the case of one yogurt-covered energy bar company—go big and go weird.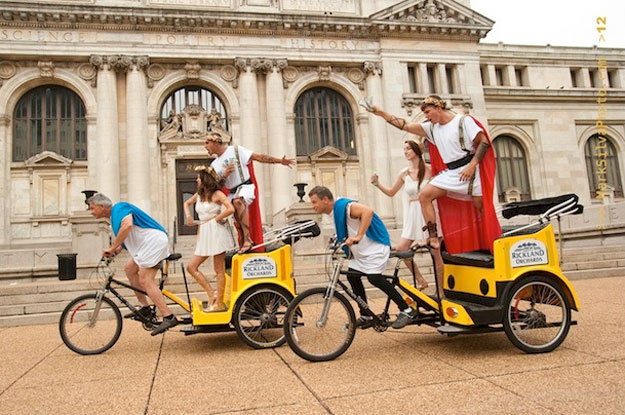 These models were employed by Rickland Orchards, makers of a bar that combines fruit, granola, and Greek yogurt. Its main claim to fame: "It's the first Greek yogurt bar that doesn't need refrigeration," says a company rep. The models orbited the Convention Center in rented pedicabs yesterday and Sunday, causing something of a Fancy Food sensation.
Related:
A Random Sampling of Offerings From the Summer Fancy Food Show