El Chucho is a long time coming. When Jackie Greenbaum and her partner, Gordon Banks—the guy behind the carefully conceived cocktails at Sidebar, the lounge adjacent to Greenbaum's Silver Spring restaurant Jackie's—first decided to open a new place, they figured they'd do barbecue and bourbon. They looked at spots on 14th Street, the property now home to Meridian Pint in Columbia Heights, and a few other locations.
Then Diana Davila-Boldin—a young chef from Mexico by way of Chicago—started cooking at Jackie's. Her moles and pozoles soon showed up among the dishes there, and Greenbaum and Banks approached her with an idea: a taqueria featuring dishes inspired by Mexican street food. They found a location—a skinny stretch of property that last housed a liquor store—and set to work turning it into a neighborhood restaurant where Columbia Heightsers can stop in for margaritas, tequila shots chased with sangrita, a bevy of house-made sodas, and tacos and tortas that top out around $11.
Look for El Chucho to open officially around the last weekend of June with this menu—some prices may be subject to change. Here, 10 more things to expect at the new taco spot:
1) Food with high-end ingredients but a casual sensibility: Take, for instance, the Sonoran Dog—a frankfurter with pork belly, black beans, pico de gallo, salsa, cheese, mayo, and mustard. Or tacos de tripas—crispy beef intestines, a ubiquitous protein in Mexico—with foie gras nuggets, lemon, and parsley. "We're taking a poor dish and making it luxurious" says Davila-Boldin, who studied with Mexican-cuisine luminary Susana Trilling.
2) Some design elements that will remind you of Jackie's: Sparkly bar stools that seem plucked from the set of The Jetsons (if, you know, The Jetsons wasn't a cartoon), ceiling lights ensconced in torpedo casings, and bright colors everywhere will feel familiar to fans of Greenbaum's Silver Spring restaurant. But while that space was designed by CORE, Greenbaum worked with 1905 designer Mick Mier to create El Chucho. The circus-meets-Mexican-punk look of the menus, signage, and logo were created by Toolbox.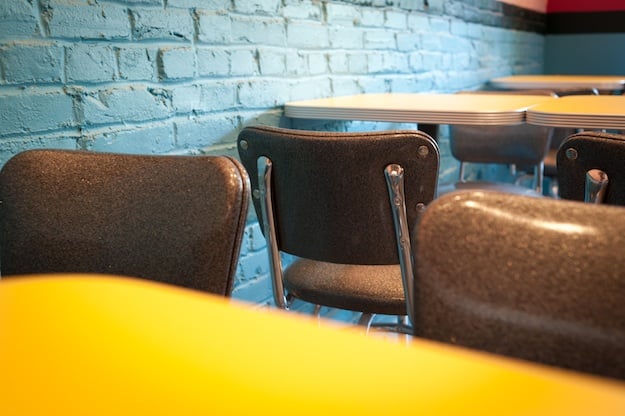 3) Vegetarian options: Meat-free patrons are unlikely to go hungry at El Chucho, what with grilled calabacita (a Mexican squash) tacos, three salads—including one with grilled queso fresco and onion and herbed quinoa—and "street-style" corn on the cob.
4) A rooftop deck: The full menu will be available on the roof, where Greenbaum plans to install heaters and a cover in the cold months. This summer, it will likely be a sought-after spot for sipping Banks's tiki drinks with house-made blue curaçao. Warning: We hear they may turn your teeth a lovely shade of azure.
5) Sidewalk seating: This includes a counter in front that seats customers both inside and outside the restaurant. It's lined with windows that open onto the street.
6) Another margarita on tap: Bandolero barman Sam Babcock recently brought Washington its first on-tap margarita; Banks will soon unveil the second. A taste test is definitely in order.
7) A $4,000 juicer: Banks's no-joke juicer will be processing the large number of limes it will take to keep El Chucho customers in margaritas. Among the options will be two frozen margs—a classic, and another with strawberry, habanero, and Yellow Chartreuse.
8) Smoked beer-can chicken made with Tecate. "Gordon showed me how to do that," says chef Davila-Boldin. The chicken shows up with sofrito and cabbage in the tacos de pollo, which are $5.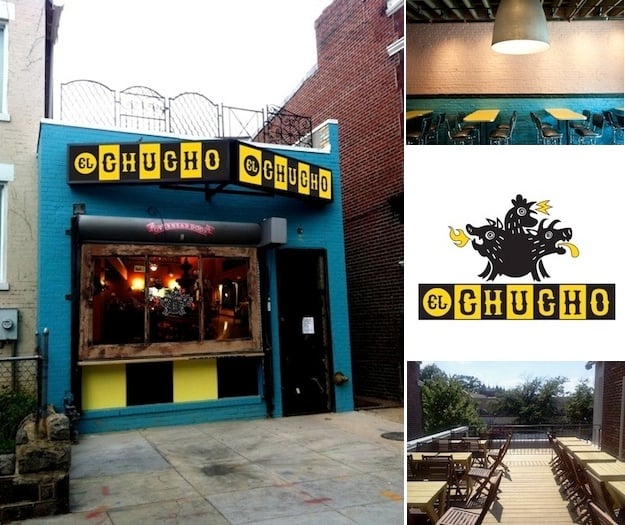 9.) Torta bread made especially for the restaurant. Davila-Boldin said she asked her family in Chicago to send her bread samples from her favorite Mexican bakery there. She took those to a local bakery, which is reproducing it for El Chucho's tortas. Davila-Boldin also successfully lobbied her distributors to start selling El Milagro tortillas, her favorites from Chicago.
10) Brunch, in a few weeks, with this stuff on the menu: Huevos Benedictos, with masa cakes instead of English muffins; huevos rancheros; gringas (like a quesadilla, with ham and cheese and an egg on top); and a breakfast burrito. "It's the perfect breakfast burrito, and that's all I'll say about that," says Davila-Boldin.
El Chucho Cocina Superior. 3313 11th St., NW; 202-290-3313.