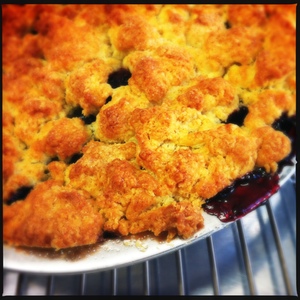 We're big fans of the desserts owner Brian Noyes turns out at the Red Truck Bakery in Warrenton, Virginia. A day trip to the old Esso station where Noyes bakes fresh pies and moonshine cake is always worth the drive, but seeing as Independence Day falls on a Wednesday this year (lame) we asked him for a quick but delicious cobbler recipe you can make at home.
"My grandmother in North Carolina was always whipping up a dessert with fruit from her garden and whatever was on hand in her pantry," says Noyes. "I use her rolling pin and mixing bowl in my bakery, and continue her tradition with cobblers every summer."
There are no real tricks to the dessert—you just need sweet, ripe berries from the market and eight friends to share it with.
Red Truck Bakery's Black-and-Blueberry Cobbler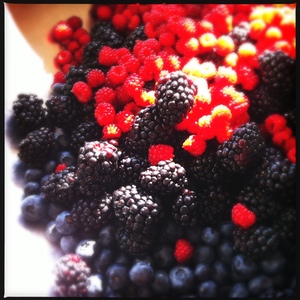 Serves 8 to 10 people
Double the recipe if using a larger lasagna-size rectangular baking pan.
Dough
1½ cups all-purpose flour
2½ tablespoons sugar
1¾ teaspoons baking powder
¾ teaspoon salt
1 stick cold unsalted butter, cut into small pieces
1 cup heavy cream, or
2⁄3
cup whole milk
Fruit Filling
5 cups mixed berries, such as local blackberries and blueberries
½ cup sugar
1⁄8
teaspoon salt
2 tablespoons cornstarch
1 teaspoon ground ginger, or 1 tablespoon finely chopped crystallized ginger
Pinch of cinnamon and nutmeg, if desired
1 teaspoon of lemon zest, if desired
For baking
½ tablespoon butter, melted
1 tablespoon sugar
1) Preheat oven to 375 degrees.
2) Make the dough: Whisk the dry ingredients together in a medium-size bowl.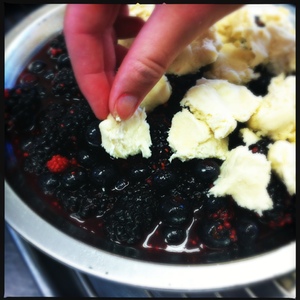 Using a pastry blender or two knives, cut butter into flour mixture. Be careful not to cut it too fine—clusters should be a little larger than pea-sized. Add heavy cream or milk and stir with a wooden spoon until the mixture resembles slightly wet biscuit dough. Set aside.
3) Combine the fruit filling ingredients together in a bowl and stir together with a wooden spoon.
4) Lightly spray a 9-inch metal pie pan or oven-safe baking pan with nonstick spray, such as Pam. Spoon in fruit mixture.
5) Using a large spoon or your fingers, drop big chunks of cobbler dough on top, covering evenly—the more rustic-looking, the better. Noyes says not to worry if there's not enough to completely cover the fruit; the dough expands when baking.
Brush the cobbler topping with melted butter, sprinkle with sugar, and bake until the top is golden brown and fruit mix is bubbling, about 45 to 50 minutes.
If desired, serve with ice cream, whipped cream, or a splash of heavy cream.
Related:
Recipe Sleuth: Baked & Wired's Peaches-and-Cream Pie
Recipe Sleuth: Watershed's Chocolate Chip Cookies
Recipe Sleuth: BlackSalt's Caramel-Apple Streusel Pie