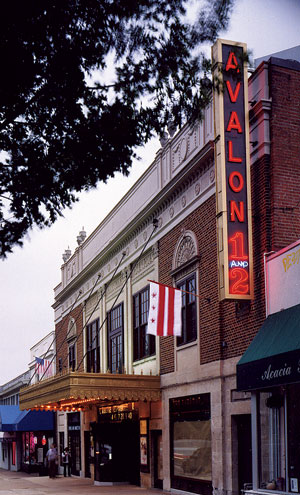 For new releases and big-ticket films, head to Regal Gallery Place (701 Seventh St., NW; 202-393-2121; regmovies.com) or AMC Loews Georgetown 14 (3111 K St., NW; 202-342-6033; amc­theatres.com), both of which have 14 screens.
For a cozier experience with more offbeat selections, visit Landmark E Street Cinema (555 11th St., NW; 202-452-7672; landmarktheatres.com) or Landmark Bethesda Row (7235 Woodmont Ave., Bethesda; 301-652-7273; landmarktheatres.com), which screen independent movies, foreign films, documentaries, and cult classics, as well as the occasional Hollywood offering. West End Cinema (2301 M St., NW; 202-419-3456; westendcinema.com) shows similar fare along with screenings of live opera and ballet from around the world.
The Avalon Theatre (5612 Connecticut Ave., NW; 202-966-6000; theavalon.org) also screens indie and foreign films, in a restored 1923 building.
For retro flicks and golden oldies as well as new blockbusters, head to AFI Silver Theatre and Cultural Center (8633 Colesville Rd., Silver Spring; 301-495-6700; afi.com/silver), which offers regular film series themed around artists such as Alfred Hitchcock and Gene Kelly.
Catch free screenings of quirky movies at several of Washington's many arts institutions, including the National Gallery of Art (Fourth St. and Constitution Ave., NW; 202-737-4215; nga.gov), the Hirshhorn (700 Independence Ave., SW; 202-633-1000; hirshhorn.si.edu), and the Freer Gallery of Art (Jefferson Dr. and 12th St., SW; 202-633-1000; asia.si.edu). It's also worth looking out for films at the National Archives (700 Pennsylvania Ave., NW; 202-357-5000; archives.gov) and the Library of Congress (101 Independence Ave., SE; 202-707-5000; loc.gov). The National Air and Space Museum (Independence Ave. and Sixth St., SW; 866-868-7774; nasm.si.edu) and the National Museum of Natural History (Tenth St. and Constitution Ave., NW; 866-868-7774; mnh.si.edu) both have Imax theaters showing space- and science-themed movies and current releases on spectacularly large screens.