DUPONT CIRCLE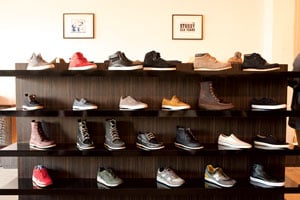 Commonwealth
Rapper Pharrell Williams was an early investor in this urban-streetwear emporium, which includes Crooks & Castles tees, Gitman Bros. oxfords, and an in-house line of hoodies. We can't stop staring at the kicks—slip-ons from SeaVees and Sperry, statement-making Nikes and New Balances, and hard-to-find Gourmet sneaks.
1781 Florida Ave., NW; 202-265-1155; cmonwealth.com. Metro Station: Dupont Circle.
Secondi
A Fendi canvas bag for $396. An Hermès scarf for $160. They're not exactly steals, but the prices at this second-floor consignment boutique are accessible to a wide range of buyers. The sunny shop has the largest secondhand inventory in the area, and the classy, professional looks are known to include such brands as Marc Jacobs and Gucci.
1702 Connecticut Ave., NW, 2nd floor; 202-667-1122; secondi.com. Metro Station: Dupont Circle.
Violet Boutique
A boutique experience even an intern can afford, Julie Egermayer's new Adams Morgan shop, Violet, has a firm grasp on twentysomething style. Fun floral tops, dresses (often $45 and under), and notice-me costume jewelry come in bright patterns and colors. Brands include Lush, Audrey 3+1, Everly, Collective Concepts, and Solemio.
2439 18th St., NW; 202-621-9225; violetdc.com. Metro Station: Dupont Circle.
FRIENDSHIP HEIGHTS / CHEVY CHASE
Adolfo Dominguez
This Spanish import does casual European chic with an eye for interesting details. Men's sweaters have asymmetrical patterns and stripes, and women's separates—in rich shades of apricot, green, and royal blue—stay flirty despite a deconstructed menswear edge. The store also carries evening gowns, sandals, purses, and dog coats.
5310-B Western Ave., Chevy Chase; 301-576-3355; adolfodominguez.com. Metro Station: Friendship Heights.
Barneys Co-op
Yes, it's technically a chain, but Barneys Co-op attracts New York transplants and edgy hipsters searching for fresh design talent. Inventory on the industrial-steel clothing racks is always changing, but recent finds have included Opening Ceremony and 3.1 Phillip Lim dresses, men's lace-ups from Rag & Bone, and Alexander Wang's studded leather duffels.
5471-C Wisconsin Ave., Chevy Chase; 301-634-4061; barneys.com. Metro Station: Friendship Heights.
Full of Beans
In business 25 years, this sweet children's store is all about classic, preppy style. Polos and tees for boys come from brands such as Dogwood and Wes and Willy, while the richly colored dresses of British brand Joules fly off the shelves. Old-school games such as pickup sticks make for nostalgic gifts.
5502 Connecticut Ave., NW; 202-362-8566. Metro Station: Friendship Heights.
Saks Jandel
Not to be confused with Saks Fifth Avenue, Saks Jandel has for more than 20 years been a favorite among congressional wives and ladies who lunch. In the plush confines of a mirrored formalwear boutique, customers work with seasoned sale­speople to find the perfect multilayered Zac Posen chiffon or an Oscar de la Renta skirt-and-shirt combo. The store is home to the only Vera Wang Bridal, Yves Saint Laurent, and J. Mendel boutiques in town, as well as separates from brands such as Donna Karan and Valentino, Armani and Rena Lange skirt suits, and Loro Piana cashmere.
5510 Wisconsin Ave., Chevy Chase; 301-652-2250. Metro Station: Friendship Heights.
Sylene
Whether you're searching for lace-and-­satin seduction tools, sturdy shapewear, or a ­simple cotton robe, you can count on Sylene. Brands include Oscar de la Renta, Elle Macpherson, and Hanky Panky, and bathing suit options—sold year-round—range from the luxe French line Eres to Badgley Mischka.
4407 S. Park Ave., Chevy Chase; 301-654-4200; sylenedc.com. Metro Station: Friendship Heights.
GEORGETOWN
AllSaints Spitalfields
This British ­import has a slightly offbeat aesthetic, fusing edgy, structural designs with wearable grungy tees and sparkly dresses. The store specializes in leather and quirky accessories. Insider tip: AllSaints uses British sizing, so don't be dismayed if that size eight doesn't quite fit.
3235 M St., NW; 202-595-9828; us.allsaints.com. Metro Station: Foggy Bottom.
Annie Creamcheese
This vintage shop, which divides its wares into designer cocktail frocks and more casual options, is a good destination for budding starlets and their admirers. Finds in the funky pink space include everything from Halston gowns and Yves Saint Laurent jackets to worn-in cowboy boots and ­retro grandpa cardigans. The store also carries a few contemporary lines, including Ximena Valero.
3279 M St., NW; 202-298-5555; anniecreamcheese.com. Metro Station: Foggy Bottom.
Hu's Wear
No Georgetown shop takes risks quite like Hu's Wear. Marlene Hu Aldaba's two-story designer showroom is lined with fierce fashions from high-end lines such as Alexader McQueen, ­Proenza Schouler, and Isabel Marant. Forward-thinking­ ­fashionistas should head to the basement, where the boutique keeps items from the most recent runway seasons. Aldaba also has a footwear shop, Hu's Shoes, across M Street.
2906 M St., NW; 202-342-2020; hus­online.com. Metro Station: Foggy Bottom.
J. McLaughlin
(Also in Bethesda) Georgetown seems like the perfect place for this preppy shop filled with critter shorts, ribbon belts, and cotton V-necks. But look past the pastels to find smart work and weekend separates for men and women. We especially like the printed shirtdresses and polished cardigans.
3278 M St., NW; 202-333-4333; jmclaughlin.com. Metro Station: Foggy Bottom.
Lost Boys
Ice-cold beers and a blond bombshell of an owner—who's also a wiz at personal styling—make men's shopping easy at Lost Boys. ­Kelly Muccio has filled her boutique with urban-rugged options from Band of Outsiders, Steven Alan, Theory, and more. The hours outside 9 to 5 have suddenly gotten cooler-looking.
1033 31st St., NW; 202-333-0093; lostboysdc.com. Metro Station: Foggy Bottom.
Madewell
Denim is the darling of Madewell, but trendsters on the hunt for a little quirk in their cardigans, pullovers, and everyday dresses love this J.Crew offshoot, too. Shoe options include ankle boots and flats, and the collection of edgy statement jewelry is adorable without being precious.
1237 Wisconsin Ave., NW; 202-333-3599; madewell.com. Metro Station: Foggy Bottom.
Rag & Bone
Locals rejoiced when this Georgetown outpost of Rag & Bone opened last year. The gritty-glam New York line offers classic cuts and staple items (blazers, dresses, tees), often with a colorful twist—jeans come in a color palette from neon pink to cerulean.
3067 M St., NW; 202-295-9072; rag-bone.com. Metro Station: Foggy Bottom.
Relish
This airy boutique is one of the best stores in Washington for the stylish mature set. Modern elegance comes in the form of Balenciaga, Maison Martin Margiela, and Dries Van Noten separates and is complemented by a smart selection of leather boots, roomy totes, and Henry Beguelin necklaces.
3312 Cady's Alley, NW; 202-333-5343; relishdc.com. Metro Station: Rosslyn.
Sherman Pickey
Lilly Pulitzer­ resortwear may feature prominently, but you don't have to vacation in Palm Beach to shop at Sherman Pickey. Cool brands for women include Chloe & Reese, Jules Reid, and Milly; men can choose from Peter Millar cashmere sweaters and Smathers & Branson needle­point belts.
1647 Wisconsin Ave., NW; 202-333-4212; sherman­pickey.com. Not Metro accessible.
Urban Chic
For trendy pieces that fit with Georgetown's under-30 crowd, try Urban Chic. Preppy socialites are drawn in by frequent trunk shows with Champagne and cupcakes, and come back for brightly colored Diane von Furstenberg dresses and Rebecca Taylor blouses.
1626 Wisconsin Ave., NW; 202-338-5398; urbanchiconline.com. Not Metro accessible.
Wink
Walk too fast and you might miss classically chic Wink, the cheery boutique located under the Steve Madden store. Owner Paige Speyer, who previously worked at Giorgio Armani, Hermès, and Matthew Williamson, has been outfitting undergrads in Tibi, Rachel Zoe, and Vince since 2004 and stocks go-with-everything baubles and bracelets from local designers such as Andrea ­Tedesco and Rachelle Celine.
3109 M St., NW; 202-338-9465; shopwinkdc.com. Metro Station: Ffoggy Bottom.
U STREET / LOGAN CIRCLE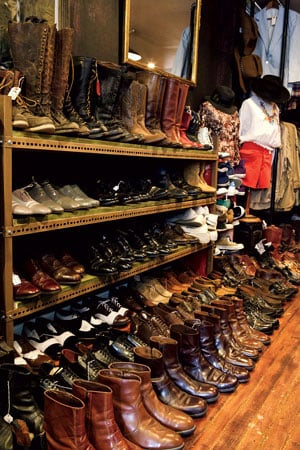 Caramel
At this hip boutique, eco-minded shoppers can find stylish clothes from "green" clothing lines Toggery, Even Keel, and Ethos Paris, among others. The store also sells men's and women's jeans, jewelry, shoes, and belts by local designers. The artwork on the walls, which is for sale, is by artists from the neighborhood.
1603 U St., NW; 202-265-1930; caramelfashion.com. Metro Station: U Street.
Current Boutique
The newest outpost of this Washington chainlet keeps DC's young professionals fashionable in sundresses from Charlie Jade and on-trend dresses by Ark & Co. Part new and part consignment, Current also stocks discounted designer jeans and secondhand separates from a bevy of your favorite brands. Additional locations: Old Town Alexandria and Arlington.
1809 14th St., NW; 202-588-7311; current­boutique.com. Metro Station: U Street.
Dr. K Vintage
Washington has long been a desert for men who enjoy a good thrift shop. Enter Somkiat Umkerd, a 20-year vintage collector with an Americana/rockabilly/Western eye. His DC store, Dr. K Vintage, may be narrow, but it's dense with varsity jackets, collegiate cardigans, army rucksacks, lumberjack plaids, and old-school Levi's. Did we mention the long wall of vintage lace-ups and cowboy boots?
1534 U St., NW; 240-888-6284. Metro Station: U Street.
Lettie Gooch Boutique
Women looking for the latest trends should check out Lettie Gooch Boutique. The place has a bit of everything: tailored dresses, oversize tunics, colorful handbags, bold jewelry. The sale section often has heavily discounted items; for even deeper discounts, go to the website and sign up for the e-mail list to get information on special sales.
1517 U St., NW; 202-332-4242; lettiegooch.com. Metro Station: U Street.
Redeem
Housed in a sleek space, Redeem features stylish men's and women's clothing for fashion-forward urbanites. With brands such as Religion, Something Else, and Kai-aakmann, don't be surprised to see big price tags. The real score is the sale rack, which usually has some in-season gems for 25 percent off or more.
1734 14th St., NW; 202-332-7447; redeemus.com. Metro Station: U Street.
Rue 14
In the clothing boutique above Pulp, ­preppy separates with an urban sensibility come in the form of Yumi Kim and Eryn Brinie dresses for women and Naked & Famous and Life/After/
Denim pants and button-downs for men. The vintage leather suitcases you'll see are also for sale.
1803-A 14th St., NW (upstairs); 202-462-6200; rue14.com. Metro Station: U Street.
Treasury
Trailblazers in Washington's vintage renaissance, Treasury owners Cathy Chung and Katerina Herodotou have earned a cult-like following for their retro-infused hipster sensibilities. In their airy boutique, women will find delicate lace blouses and '50s-style swimsuits. Hit the small but smart men's section for Western shirts and rugged leather belts.
1843 14th St., NW (upstairs); 202-506-6908; shoptreasury.com. Metro Station: U Street.
ARLINGTON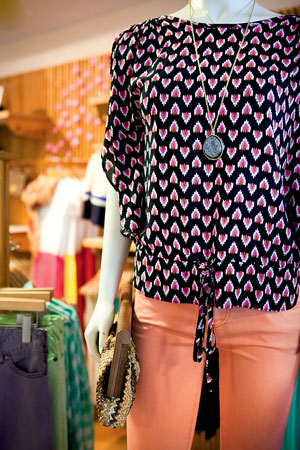 Crystal Boutique
This store's standalone jackets and sweaters (sizes 0 to 26) make dressing easy—interesting details such as draped collars, ornate beading, and fine fabrics liven up a wardrobe. You'll also find pants, cardigan shells, and basic blouses in a range of styles, colors, and cuts. Coupled with the in-store Lafayette 148 New York ­boutique and a rich-looking jewelry selection, Crystal feels like a much larger department store. Complimentary tailoring is available on most regular-price items.
2160 Crystal Plaza Arcade; 703-415-1400; crystalboutique.com. Metro Station: Crystal City.
Current Boutique
(See U Street listing) 2529 Wilson Blvd.; 703-528-3079; current­boutique.com. Metro Station: Courthouse/Clarendon.
Denim Bar
This is a great destination for casual men's and women's clothes. Guys will appreciate the Canterbury of New Zealand jackets; women can browse drapey tops from Ella Moss and Velvet. Oh, and did we mention the glorious ­cherry-wood wall of designer jeans? It's filled with dozens of styles from A.P.C., Paige Premium Denim, Hudson, Nudie, and more. Don't be embarrassed if you need help navigating the options—the knowledgeable staffers are happy to help.
1101 S. Joyce St.; 703-414-8202; denimbaronline.com. Metro Station: Pentagon City.
Gossip on 23rd
At Katherine Glorioso Dress's cute Crystal City boutique, flirty dresses and tops fill most of the racks, and every­thing costs less than $100. Last year, Dress took over the space next door. The 900-square-foot addition created room for a vintage rack, graphic T-shirts for men, and a fun selection of novelty books. Ten new styles come in every Wednesday—keep tabs on the "just arrived" section of the store's website so you don't miss out.
566 23rd St. S.; 703-920-1498; gossipon23rd.com. Metro Station: Crystal City.
Periwinkle
Started by two former politicos, this Village at Shirlington boutique aces conservative chic. Kitten heels by Butter, tweedy Mcginn shifts, and pearl baubles will carry you through a season of fundraising luncheons, while pretty party dresses by Shoshanna and luxurious Autumn Cashmere sweaters take care of your weekend agenda. Round up your girlfriends and book an in-store ­shopping party—Peri­winkle will provide drinks, appetizers, and 10 percent off all purchases.
4150 Campbell Ave., Suite 104; 703-379-5242; periwinkleshop.com. Not Metro accessible.
South Moon Under
This East Coast chain is a good choice for versatile, of-the-moment options. Fill out your winter-in-the-city wardrobe with Sanctuary jackets, Hudson jeans, and trendy B.B. Dakota tops. Amrita Singh statement jewelry and Marc by Marc Jacobs makeup cases round out the fashionable mix for women. The extensive selection of stylish swimwear is available year-round.
2700 Clarendon Blvd.; 703-807-4083; southmoonunder.com. Metro Station: Clarendon/Courthouse.
BETHESDA
Daddy & Son
The Bethesda location of this high-end Italian store is the chain's only outpost in the United States. Men's shirts come in four styles: standard European dress, business-casual button-down, streamline cut, and the more adventurous—in both color and cut—slim fit.
4836 Bethesda Ave.; 301-652-0595; daddyesonusa.com. Metro Station: Bethesda.
J.McLaughlin
(See Georgetown listing) 4851 Bethesda Ave.; 301-951-5272; jmclaughlin.com. Metro Station: Bethesda.
Luna
On-the-scene suburbanites hit this well-stocked shop for colorful, high-quality wardrobe staples. Flowy blouses from Velvet and MM Couture hang beside frocks from Alice & Trixie and Susana Monaco. Tribal-inspired Chan Luu jewelry and a wall of designer denim complete the selection.
7232 Woodmont Ave.; 301-656-1111; shopluna.com. Metro Station: Bethesda.
Urban Chic
(See Georgetown listing) 7126 Bethesda La.; 301-657-0290; urbanchiconline.com. Metro Station: Bethesda.
Mustard Seed
Part consignment shop, part new boutique, and all on-trend, Mustard Seed has been around since 1991. Teens will find stylish, age-appropriate options, experienced thrifters will squeal at the vintage steals (Chloé! Tory Burch! DVF!), and Mom will love that the affordable pieces are never cut too high or too low.
7349 Wisconsin Ave.; 301-907-4699; mustardseedshop.com. Metro Station: Bethesda.