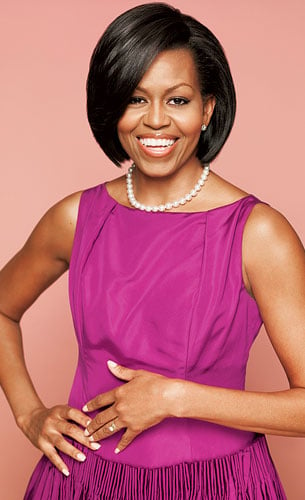 Makeup
Who: Carl Ray, based at George at the Four
Seasons Salon, has been the First Lady's makeup artist for 2½
years.
The look: "I like to use taupes, bronze, and
browns. I love a warm apricot blush followed by highlighter dusted on the
cheekbones and a pink or peach nude lip gloss." A personal favorite is
Make Up for Ever Kohl eye pencils, which come in a variety of shades, for
a little "pop." Says Ray: "The First Lady is not afraid of color or
texture."
Hair
Who: Johnny Wright has been Obama's
hairstylist for five years. "I met her in Chicago," says Wright, who is at
DC's Immortal Beloved salon when not by the First Lady's side.
The look: To get Obama's coiffed waves, Wright
suggests a shoulder-length bob with long layers for versatility. "A
mid-length hairstyle is best for a busy woman. You can pull it back, wear
it down, put in loose waves." His vision for Obama: "She needs to remain
classic and recognizable."
Nails
Who: Dawn Nguyen owns Georgetown Nails, a
hotbed of activity among the city's well-groomed set—which may be why the
First Lady is said to call on Nguyen and her team of nail specialists
frequently.
The look: When it comes to polish color, we've
noticed that FLOTUS tends to keep things neutral, opting for blush pinks
and nearly nude nails. Nguyen cautions busy clients to avoid oval-shaped
nails, which have a higher tendency to break than a square, rounded
shape.