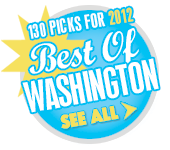 Sunday
Wisdom

Every Sunday, this tiny lounge screens movies and TV shows
while discounting one classic cocktail to $7 or $8 and passing out free
bowls of popcorn. 1432 Pennsylvania Ave., SE; 202-543-2323.
Monday
ChurchKey

Most Mondays, this brew hall taps rare kegs and hosts intimate
events with top microbrewers. Take advantage of the manageable crowd to
chat up one of the suds scholars behind the bar. 1337 14th St., NW;
202-567-2576.
Tuesday
The Passenger

Sip kitschy drinks such as the Castaway—dark rum, lime, ginger
liqueur, grapefruit, and honey—during Tiki Tuesday at this craft-cocktail
destination. 1021 Seventh St., NW; 202-393-0220.
Wednesday
PX

Access to Todd Thrasher—this Alexandria speakeasy's famed drink
mixer—isn't easy to come by, but hump day is your best chance of finding
him behind the bar and unencumbered by a crowd. 728 King St., Alexandria;
703-299-8385.
Thursday
H Street Country Club

Unlimited rounds of mini-golf, regularly $7 at HSCC's indoor
course, are $4 for patrons who wear plaid on Thursdays. A 5-to-8 happy
hour features $3 Dos Equis and $5 margaritas. After 8, a Pimm's Cup is
just $5. 1335 H St., NE; 202-399-4722.
Friday
Sidebar

Happy hour—$4 off signature cocktails and wines by the
glass—goes until 7 on weekdays at this wee appendage to Jackie's
restaurant. The crowd starts arriving around 6, so show up early to secure
a pool table. 8081 Georgia Ave., Silver Spring; 301-588-0899.
Saturday
Lyon Hall

This bustling brasserie hosts a 3-to-7 happy hour every day. On
Saturday, a fun crowd of regulars fills up the bar for $4 off selected
draft beers, $6 short-rib frankfurters, and other excellent specials. 3100
N. Washington Blvd., Arlington; 703-741-7636.