Seven score and seven years ago, on Good Friday evening in the nation's capital, four men embarked on a conspiracy to assassinate the President, Vice President, and Secretary of State. One of those men succeeded, of course, but anything might have happened that fateful night, a fact that Stephen L. Carter brilliantly exploits in his big, intricately plotted new novel, The Impeachment of Abraham Lincoln.
In Carter's version, Lincoln has survived his gunshot wound to the head (which medical researchers now think might have been possible). Now it's two years later, and Honest Abe faces impeachment for making several allegedly illegal moves during the Civil War, the most serious of which involved a purported plan to overthrow Congress and set up "a military district—the Department of the Atlantic—to run the government."
Enter the law firm of Dennard & McShane, the shop working on Lincoln's behalf, and its star clerk, Abigail Canner, who wants to become one of America's "fewer than a dozen lawyers of African descent" and the first woman attorney "of any color." To do so, she'll have to prove herself in the face of white society's "special tax" on blacks: "rejection, exclusion, condescension." It looks to be an uphill slog, but when her boss turns up dead, Abigail finds herself thrust into the most important trial in her young nation's history—and a double-murder investigation.
Carter, a Washington native and Yale law professor who penned The Emperor of Ocean Park, enlivens his new novel with imaginative renderings of the great statesman as well as socialites of the era. Washington readers will get a kick out of comparing Carter's vivid portrait of late-19th-century DC with the city they know today. "George Town," for example, is a neighborhood "where no sane Washingtonian ventured after dark." But the best thing about sitting down with this rich, often thrilling novel is watching its alternative history unfold. As Carter writes in the author's note, it's "the 'what-ifs' that make fiction such fun."
John Wilwol can be reached by e-mail at jpw1922@gmail.com or on Twitter at @johnwilwol.
This article appears in the July 2012 issue of The Washingtonian.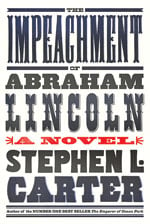 Publisher:
Knopf
Price:
$26.95