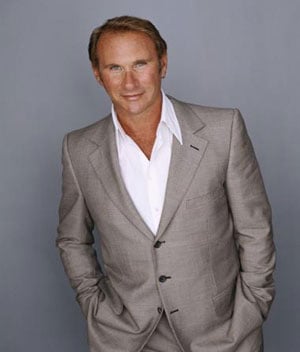 As a founding editor of
InStyle—an automatic "fashion guru" qualifier—
Hal Rubenstein knows the good stuff when it comes to living well and dressing accordingly. Already the author of
100 Unforgettable Dresses and
Paisley Goes With Nothing: A Man's Guide to Style, Rubenstein has recently put together a new book of rules based on articles from 1950's "culture bible,"
Gentry magazine.
The Gentry Man: A Guide for the Civilized Male features Rubenstein's top picks of
Gentry articles bound into an essential handbook of
all the things a guy needs to know: what to wear to the beach or on the
slopes;
how to make a quiche Lorraine or win a game of chess; and which
liquors complete your home bar. Rubenstein, who on Thursday
will be in Washington for a soiree and book signing at
the Dupont Circle showroom of custom clothier Alton Lane,
chatted with us about style's most essential elements,
Mitt Romney's hairstyle, and who could be the modern-day Beau Brummell.
How about a little game of word association? We'll give you the word, you tell us what pops into your head:
Michelle Obama
Adventurous.
Newt Gingrich
Ill-suited, in so many ways.
Callista Gingrich
Lacquered.
Inauguration ensemble
Referring to the First Lady: game changing.
Referring to the usual invitees of the day: utterly safe.
Best-dressed First Lady
Jacqueline Kennedy—no contest.
Best-dressed President
Three-way tie: John Kennedy, George H. W. Bush, Thomas Jefferson.
Mitt Romney's hair
President of the college debate team.
Iconic Washington gentleman
Ben Bradlee.
Navy suit/red tie
Falsely patriotic.
Perfect DC cocktail
Grey Goose, on the rocks, make it a double, no fruit.
We can't let you get away without some of your essential advice. What are the items every Washington man should have in his
closet?

1) Gray pinstripe and black two-button suits, all fitted to the body you have now.
2) A navy blazer, without brass buttons.
3) Flat-front khakis.
4) Loafers with no tassels, ties, buckles, pennies, or contrasting soles.
5) A cashmere topcoat that isn't camel.
6) Ties that are not red, blue, or regimentally striped.
7) Formal evening attire bought within the past five years.
What's the most often overlooked men's accessory in your opinion? And which accessory trend do you wish would return? Go away?
Most overlooked would be properly shined and cared-for
shoes, and an elegant watch. An accessory that should return is
manners.
And an accessory that should go away is pins that supposedly
declare you are a better citizen than those who don't wear pins.
Who is this generation's Beau Brummell? Or who even comes close?
Kind of close:
Brad Pitt,
Jude Law,
Johnny Depp,
Ryan Gosling. Unfortunately, politicians and CEOs wouldn't dare this kind of sartorial bravado.
If a gentleman has to learn three things in life, what should they be
1) How to write a gracious thank-you note—NOT an e-mail or a text but an actual handwritten note.
2) How to carve a turkey. Not knowing how is worse than running like a girl (especially because girls don't "run like girls").
3) The power inherent in saying "I don't know" when someone else does.
4) That you should count your blessings daily.
For more information on the Alton Lane event, email altonlane@brandlinkdcrsvp.com.