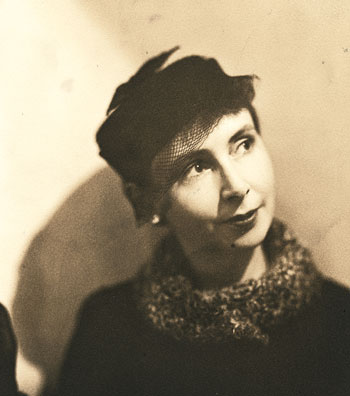 One of the Smithsonian's least-known branches, the
Archives of American Art has a wealth of information in
its collection—more than 16 million letters, diaries, manuscripts, and
photographs related to the visual arts—most of it searchable online. The
archives also presents three or four exhibits a year in DC's Reynolds
Center for American Art and Portraiture, the building that houses the
Smithsonian American Art Museum and National Portrait Gallery.
"Six Degrees of Peggy Bacon," through September
30, explores the interconnectedness of the art world, using American
illustrator and printmaker Peggy Bacon as a focal point. "She was very
prominent in the 1920s and '30s and was known for her caricatures of
celebrities," says archives specialist Mary Savig. "Bacon became part of
this cohort of young artists who moved to Woodstock, New York, and she had
a very wide network."
The exhibit plays off the notion that any two people can be
connected via six degrees of separation or fewer, as in the game Six
Degrees of Kevin Bacon, which challenges players to connect celebrities
via the prolific actor. The show's main feature is a matrix with Peggy
Bacon at the center, linking people as disparate as singer Mary Chapin
Carpenter and Eleanor Roosevelt. "It's very random," Savig says, "but it
reveals how each person is related to the art world, in sometimes quirky
and poignant ways."
Display cases contain items that lead back to Bacon. One holds
a snapshot of artist Una Hanbury and Georgia O'Keeffe, which in turn leads
to objects featuring Buckminster Fuller, Isamu Noguchi, and Konrad Cramer,
whose scrapbook contains a holiday card from Peggy Bacon. Says Savig: "It
really shows the range of materials we keep."
Through Sept. 30 in the Reynolds Center's Lawrence A. Fleischman Gallery, Eighth
and F sts., NW; 202-633-1000; aaa.si.edu.
This article appears in the July 2012 issue of The Washingtonian.