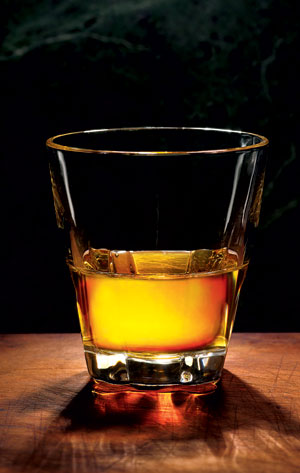 I've never been much of a drinker—except for my college days in
Canada, where Moody Blue, Lonesome Charlie, and Boone's Farm were the
wines of choice—so I managed to make it into my forties without tasting
single-malt whisky.
My husband's Scottish cousin Judie introduced me to whisky—they
don't call it Scotch in Scotland—two years ago when she visited us in
Oakton. The occasion was a sad one: My husband's brother Don had died
after being rushed to the hospital with chest pain. Don had lived with us
for his last four years and had inspired my husband and two daughters and
me with his resilient attitude toward his 30-year journey with multiple
sclerosis.
When I first saw the bottle of Laphroaig that Judie brought, I
wasn't interested. I'd always imagined whisky to be the drink of lonely
businessmen in hotel bars, not one with any relevance to me. But others in
the family wanted to toast Don with it: He'd always humorously attributed
his shark-like exploits in discount online shopping to his "Scottish
blood."
So I accepted a small glass of the Laphroaig and took a sniff.
The fumes, reminiscent of diesel fuel, assaulted my nose. The first sip
wasn't much better. Laphroaig is supposed to be "peaty," and I found the
flavor sharp and unpleasant.
Then I experienced the afterburn. Ah. Suddenly a pleasant
warmth radiated from my core to my limbs. As it did, I felt the tide of
anger, sadness, and shock begin to ebb.
Don had died on Wednesday morning, and from that evening on our
home was occupied by a revolving assembly of the grieving—members of Don's
MS support group, nieces and nephews from far-flung colleges, old family
friends.
Amid the bustle, there was one constant—well, one constant with
different labels. As we did the painful work of making cremation
arrangements, setting up a fund with the MS Society, and planning the
memorial service for that Sunday, there was the whisky: Macallan, Bowmore,
Dalwhinnie. The Laphroaig was long gone.
When we had done all the tasks we could manage at one sitting,
we would pass the bottle and reminisce about Don. How he'd refurbished
computers and given them away to people who needed them. How he'd loved to
show off his iBOT wheelchair. How no one who knew him had thought of him
as handicapped. How he'd delight-ed in "sniping" on eBay—placing a bid at
the very last minute. How he'd taped a white and nerdy sign to his
wheelchair when we went to a "Weird Al" Yankovic concert at the Warner
Theatre.
After a moving and utterly fitting memorial, which included
Weird Al's songs "White & Nerdy" and "eBay," I came home and flopped
onto the sofa, kicked off my shoes, and let our ancient Westie climb into
my lap. "Kayt!" I called to our eldest daughter. "Where's my
whisky?"
This falls into the realm of things you never think you'll say
to your kids, but as I sipped the glass of Dalwhinnie, I felt the first
hint of a peace that would grow in the coming days and months, knowing
this was what Don would have wanted: to go quickly instead of letting the
MS take him by degrees.
We still don't drink much in our family—an occasional glass of
wine with dinner is about it—but sometimes when the extended family gets
together, we'll bring out the whisky, pass the glasses, and laugh as we
remember Don. I'm sure he'd love it—especially if we got a good deal on
the bottle.
This article appears in the July 2012 issue of The Washingtonian.